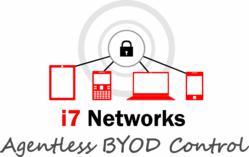 Today allowing BYOD is inevitable and providing security is paramount. We believe doing it without invading into the privacy of employees, quietly and effectively via agentless way.
Redmond, WA (PRWEB) January 17, 2013
i7 Networks, a Redmond/Bangalore based company, launches "Peregrine Guard", which provides enterprise agentless way of controlling and managing security due to enabling of BYOD (Bring Your Own Device) program in their organization. Since it is agentless it is truly cross-platform, highly scalable and provides complete privacy for employees during their off-office hours and when they are not connected to the enterprise network. Peregrine Guard is one of the first in the industry to provide granular access control based on DUAL-TIER approach (Device-User-App-Location (branch office)-Time-Incident Handling-End Point Security-Resource).
Peregrine Guard provides one of the best enterprise mobility network access control platform and integrates well with the existing authentication products such as MS Active Directory, LDAP and RADIUS and also works well with the existing security and network infrastructure with no changes to the existing network. Peregrine Guard also provides auto-discovery of all devices making sure no device goes undetected and there are no unauthorized devices on the corporate network. Its central policy management and complete visibility and alert mechanism makes it unique in the market to alert and prevent spread of malwares which are now finding backdoor entry into corporate network via BYODs. Peregrine Guard also integrates well with Microsoft Exchange ActiveSync helping in remote wipe out of the device when required.
Manju M Gowda, CEO of i7 says, "We believe putting an agent on a mobile smart device is really old generation and a bad intrusion into privacy of employees. Security has to be dealt quietly and effectively and our agentless BYOD security solution ensures that. Being agentless provides what all employees with their devices (BYOD) wished for and effective security makes what all CIOs really wanted. We feel it is a win-win proposition."
For further information please do visit our website http://www.i7nw.com or write to us at info(at)i7nw(dot)com