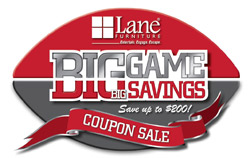 Our customers love the legendary quality, style and comfort of Lane Furniture products, so we jumped at the chance to be a part of Lane Furniture's Big Game – Big Savings Sale
Golden, CO (PRWEB) January 16, 2013
SofasAndSectionals.com, the premier online retailer of upholstered furniture and accessories, is pleased to announce its participation in Lane Furniture's football promotion, Big Game – Big Savings. Visitors to SofasAndSectionals.com can get increasing discounts on all Lane Furniture from sofa groups to sectional sets and individual recliners. Orders of $499 to $999 qualify for a $50 discount, orders of $1,000 to $1,499 qualify for $100 discount, orders of $1,500 to $1,999 qualify for $150 discount, and large purchases of $2,000 or more qualify for a $200 discount. The Big Game – Big Savings Event runs from January 16 to January 27, 2013. Online shoppers can also get 5% off most other products offered on SofasAndSectionals.com.
"Our customers love the legendary quality, style and comfort of Lane Furniture products, so we jumped at the chance to be a part of Lane Furniture's Big Game – Big Savings Sale. Coupled with domestic manufacture, these prices are a game changer and should not be missed", said Bruce Tucker, Vice President of Marketing for SofasAndSectionals.com. Mr. Tucker added, "We strive to provide shoppers with the best prices possible. Add free shipping and no sales tax in most states, and our customers know they are getting the best incentives to buy furniture online".
Whether customers are looking to furnish a new home, or give an existing room a makeover, Lane Furniture has a wide range of furniture products to fit customers' needs. Everything from sofa groups to sectional collections and individual recliners are available on SofasAndSectionals.com. All of these products are on sale including the very popular Lane Advantage 350 Sectional Sofa. This collection offers great features like a swivel end recliner and chaise lounge. Another great product on sale is the Lane Evans 323 Sofa Group, which is available with console loveseats that have built in cupholders. Customers can choose from these and a large number of other Lane products, most of which can be custom ordered in a wide range of upholsteries and wood finishes. Where possible, SofasAndSectionals.com offers price matching with prices from other furniture stores.
As an added promotion, customers can also get a 5% discount on other qualifying products in SofasAndSectionals.com catalog that they order through January 27, 2012. "Our customers constantly tell us that they appreciate promotions like the Big Game – Big Savings Sale, so we work hard to bring them the best possible pricing on Lane and other quality brands", added Mr. Tucker.
The Lane discounts are applied to orders over the telephone. Customers need to call (888) 567-7632 to get their Lane discounts. Friendly Sales Experts are standing by to help. The 5% discount is available for qualifying telephone or online orders. Customers need to add SBSAS13 to the Coupon Code field on the Checkout page, or give the code over the phone. This discount will be automatically applied to all eligible products.
About SofasandSectionals.com – SofasAndSectionals.com is a division of InteriorMark, LLC, which is the leading retailer of quality home furniture online. InteriorMark's group of online furniture stores offers home furnishings for the living room, bedroom, dining room, home office and other rooms in the home. InteriorMark, LLC is a member of the National Home Furnishing Association and is an A-rated member of the Better Business Bureau.