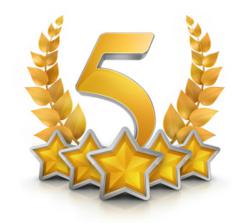 A Businesses Reputation is now Naked for the Whole World to See!
Reno, Nevada (PRWEB) January 17, 2013
One of the biggest problems facing businesses today in getting new customers is that anyone can look online to see what their reputation is regarding their products and services. A businesses reputation is literally naked and visible to the entire world. They may have spent an enormous amount of time and money to get their business found online, only to have people see that they have a poor or bad reputation. Making sure that a business has a great reputation is the first step in promoting any business and marketing comes second, otherwise they are just shooting themselves in the foot.
The WebSmith Group offers a new program called "5-star Reputation Marketing" and is defined as building a 5-Star Reputation online and then leveraging that reputation to get more customers.
The WebSmith Group is an online marketing company that assists clients in recognizing the significant changes in advertising and marketing with the increase in social media marketing and the decline of more traditional marketing methods. Specializing in reputation marketing, The WebSmith Group helps clients generate more positive reviews by using a variety of high-tech items including an iPad and QR codes that make it very easy to leave reviews for the business. The main purpose of these technological devices is to make sure that the customer is happy before they leave the door and tell the world about an unhappy experience. If they leave a negative review on the iPad it will "beep" and also send a text message to any phone, thus notifying the staff that there is a problem and allow the staff an opportunity to solve the problem before it becomes a much bigger problem.
Studies have shown that 72% of people believe online reviews which is much higher than newspaper editorials, emails, TV ads, etc. Other studies have shown that a person who had a positive experience with the business will tell three people, but a person who had a negative experience may literally tell hundreds and since the onslaught of social media, thousands of people can be influenced. The iPad makes it possible to solve the problem right on the spot.
87% of people go online to do research about a company before they buy products or services from them. If they find negative reviews about that company a large percentage will go find someone else. If they do research on trying to find a particular product or service, they will find several companies vying for their attention and studies have shown that they will most likely choose the one with the highest rating. What is most frustrating to businesses is that many times unethical competitors, unhappy ex-employees or irrational customers wrote those reviews and they don't know how to deal with them.
The WebSmith Group's 5-Star Reputation Marketing shows them not only how to deal with them but how to dramatically increase their online reputation and help ensure that the majority of customer reviews are positive. This is different than Reputation Management, because companies usually don't make money managing, they make money by marketing. The WebSmith Group's five-star reputation marketing program is designed to market a businesses reputation to get more customers.
Any business is only one customer away from a bad reputation. Not every business performs perfectly every day. Not every employee or customer service representative is on their game 100% of the time. It's important that their performance and activities are constantly directed at making customers happy. Part of the five-star reputation-marketing program offered by The WebSmith Group includes a detailed reputation marketing training segment for all of the business's employees. It's a powerful online video and testing program that can be taken over and over again to ensure that each employee is putting their best foot forward.
To check the number of negative reviews any business has just go to http://www.GreatReputation.info and enter the business phone number to get a free report.
Those who may be interested in obtaining 5-star reputation marketing services or would like to hear more about what the WebSmith Group can do for their business are invited to watch the short video and browse the website at http://www.thewebsmithgroup.com/5-star-reputation-marketing.
You can also call Kelly Smith today at (775) 722-4949 or email him at kelly(at)TheWebSmithGroup(dot)com to get started on building a 5-Star Reputation.