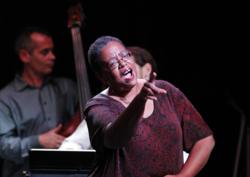 Other Places is a program series designed to promote the protection of human rights against bigotry and hate through the arts.
(PRWEB) January 16, 2013
The Mizel Museum and Denver Public Library's Fresh City Life are partnering to present "Other Places," a series of programs designed to promote the protection of human rights against bigotry and hate through arts, education and public dialogue. The two organizations are joining with more than 90 other community organizations as part of Colorado Ballet's Light/The Holocaust & Humanity Project, which combines a full-length contemporary ballet with a community education effort. Programs will take place between Martin Luther King Jr. Day (January 21) and Holocaust Remembrance Day (April 15).
Mizel Museum and Fresh City Life programs will be held at the Central Library, 10 West 14th Avenue, Denver, unless otherwise specified. Please RSVP to denverlibrary.org/fresh or call (720) 865-1206. Seating is limited. Programs include:
I Never Saw Another Butterfly: Staged Readings by Our Youth
Sunday, January 27, 2:00-3:30pm
In honor of International Holocaust Remembrance Day, Jefferson County Open School students will read excerpts from I Never Saw Another Butterfly, sharing the inspirational writing from the children detained at Terezin Concentration Camp. During this touching remembrance, artwork created by the children of Terezin will be shown and the readings will be underscored by traditional violin music.
Unbounded: Breaking the Chains of Modern Slavery
Tuesday, February 19, 7:00pm at the Central Library (free preview) and
Thursday, March 7, 7:00pm at Congregation Emanuel, 51 Grape Street, Denver
Created by Marta Burton, this concert is a multimedia performance that draws upon the music, historical narratives and images of Jewish and African American experiences of oppression and slavery, to raise awareness of those enslaved globally today. Performances by the brilliant Sheldon Sands, with accompaniment by local musicians and singers. To purchase tickets for the March 7 performance visit http://www.mizelmuseum.org.
Spoken Word for Everyone
Sunday, March 10, 2:00-4:00pm
Create beautiful poetry and raise your voice at the same time. Writers of all ages are invited to participate in this spoken word workshop on bigotry and social justice. Students will be guided by musician, spoken word artist and educator, Molina Speaks, and will be encouraged to share their work. Molina tops off this workshop with a performance of his own recent work. Molina Speaks is a critically acclaimed poet and hip-hop artist. His prolific discography has drawn attention and praise from local media, and he has shared the stage with Lupe Fiasco, Saul Williams, Abiodun Oyewole of the Last Poets, The Flobots, Dead Prez, and Les Nubians. His original music is featured in the film Papers, a documentary about undocumented youth that has screened in all 50 states. Molina teaches college classes and has lectured and performed at dozens of universities. He works regularly with K-12 youth on themes of identity, self empowerment, arts education, history and futurism, the power of voice, healthy lifestyles and healthy risk taking. For more information, visit http://www.molinaspeaks.com.
Going On: A Lone Survivors Story
Sunday, April 21, 3:00-4:30 pm
Born in Pabianice, Poland in 1929, Jack Adler and his family were swept into the terror of the Holocaust. His parents and four siblings all perished at the hands of the Nazis. In his powerful and inspiring firsthand account, Y: A Holocaust Narrative, Jack (Yacob) tells his story and describes his struggle to survive, overcome and regain a sense of joy about being alive. Always warm and gracious, Adler will share readings from his book as well as take questions and engage in dialogue with the audience. Book signing to follow.
Generations: Many Threads, One Fabric
Sunday, May 12, 3:00-4:30pm
Each personal story of the Holocaust, unique and enriching on its own, adds greater depth to our understanding of the history and lessons of the holocaust. The Mizel Museum's permanent exhibit has a growing collection of stories recounted by members of the local Jewish community. Generations is devoted to Holocaust survivors and their children and grandchildren. Stories are three to five minute digital narratives of firsthand or familial accounts of survivors. Producers Deanne Kapnik and Sari Horovitz host this screening, followed by Q & A with the storytellers themselves.
About Light/The Holocaust & Humanity Project
Colorado Ballet will close out the season with Light /The Holocaust & Humanity Project March 29-31, 2013 at the Newman Center at the University of Denver. Making its Denver debut, this one act contemporary ballet in five movements is inspired by the poignant journey of one Holocaust survivor. Light serves as a timely reminder of the importance of the protection of human rights. Purchase tickets and view a list of all community partner programs at http://www.coloradoballet.org.
About Fresh City Life
Fresh City Life provides programs at Denver Public Library's Central Library. Its mission is to provide informative, entertaining and interactive learning opportunities for adults living in Denver. Fresh City Life creates a community-gathering place while presenting events, classes and workshops that reflect the diversity of the library's community and collections.
About the Mizel Museum
The Mizel Museum is a portal to the contemporary Jewish experience. Exhibits, events and educational programs offer interactive experiences that promote community, understanding and multiculturalism. The Museum is located at 400 S. Kearney Street, Denver, where visitors can tour the new permanent exhibit, 4,000 Year Road Trip: Gathering Sparks, a dynamic journey through art, artifacts and digital media that narrates and illuminates Jewish history and culture.