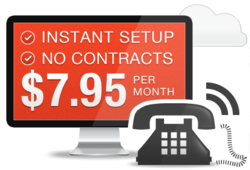 This website change realigns our public image with the innovative technology that is at the core of our foundation.
Tallahassee, FL (PRWEB) January 17, 2013
Hosted Numbers, a provider of telephone numbers, call forwarding, and call tracking services, unveils a website redesign. This newly designed site offers a fresh, sleek and cutting-edge look that matches the telephony and technology firm's service offering. Hosted Numbers' newly launched and completely redesigned website focuses on giving users a better experience.
Marketing Specialist, Cassie Gordon states of the change, "This is a whole new look for Hosted Numbers, with a substantial focus on not just getting our products in front of clients but also helping them better understand how to make the most of our products. In addition to the enhanced user experience, it was important for us to create a new style for ourselves, and now we better match our corporate culture. We've worked hard to carry this look through to all of our customer touch points, so the user experience is consistent. Efforts to create this contiguous appearance can be seen in collateral like our recently released white paper."
New features include original videos and simple use cases for services offered. These additions will give visitors insight into how other businesses successfully partner with Hosted Numbers. Layout changes are expected to help visitors more easily navigate the site, highlight answers to common questions and help users better understand the options available.
Victor D'Aurio, President & CEO, states, "This new design represents our organization much more appropriately. We've spent a lot of time upgrading our platform and infrastructure in recent years. This website change realigns our public image with the innovative technology that is at the core of our foundation."
We invite you to visit the new site at http://www.hostednumbers.com and send your feedback to marketing(at)hostednumbers(dot)com.
# # #
About Hosted Numbers
Hosted Numbers is a provider of toll-free, vanity and local phone numbers, call forwarding and ad tracking services. Hosted Numbers services are easily configured and you can manage your account online 24/7. Automated systems deliver the latest technology like advanced caller ID, call recording, click to call, voicemail and so much more.
Please visit http://www.hostednumbers.com for more information.