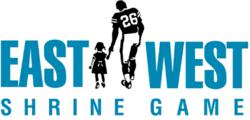 It is important to recognize athletes that have made significant contributions to their communities as well as football
(PRWEB) January 16, 2013
Buddy Curry and Steve Bartkowski will be inducted into the East-West Shrine Game Hall of Fame on Saturday, January 19, 2013. The East-West Shrine Game, played every January, is the longest-running and most respected college all-star football game in the country. Taking place before the NFL draft, the game showcases the upcoming generation of NFL talent, while benefiting Shriners Hospitals for Children.
Curry and Bartkowski were both selected in recognition of their successful NFL careers as well as their ongoing dedication to the game.
"It is important to recognize athletes that have made significant contributions to their communities as well as football," said Harold Richardson, executive director of the East-West Shrine Game. "Buddy Curry and Steve Bartkowski have been exemplary leaders, both on and off the field."
Buddy Curry graduated from the University of North Carolina, where he was an ACC All-Conference performer and four-year football letterman. He joined the Atlanta Falcons in 1980 after being drafted in the second round, where he was named NFL Defensive Rookie of the Year.
Today, Curry and former Falcons player Bobby Butler own and run Kids and Pros, Inc., which organizes and implements football and character building camps for youth. Launched in 2002 to teach "Character and Skills Through Athletics," the camps have trained more than 5,500 kids to date.
Curry coaches for Junior Rank, a sporting event and Internet media company dedicated to training, identifying, recognizing and rewarding student athletes around the county. He also serves on the Board of Directors for Crossroads Community Ministries, as well as the Southern States Athletic Conference Marketing Advisory Council.
Steve Bartkowski is one of only nine quarterbacks in NFL history who has achieved consecutive 30-touchdown passing seasons in his career. Prior to joining the Atlanta Falcons in 1975, Bartkowski attended the University of California at Berkeley, where he earned consensus All-American honors by leading the nation in passing with 2,580 yards.
Bartkowski was the first client of sports agent Leigh Steinberg and continues to be the Falcons all-time leader in passing yards. After collecting over 50 victories as starting quarterback for the Falcons, Bartkowski guided the team to their first playoff victory in franchise history in 1978. He became a member of the California Sports Hall of Fame in 1990 and was inducted into the Georgia Sports Hall of Fame in 2007.
Currently, Bartkowski is on the Falcons Board of Directors and a member of the Christian Sportsmen Fellowship.
###
About the East-West Shrine Game
The East-West Shrine Game is the longest-running college all-star football game in the country and features some of the highest-rated players in the projected NFL draft ranking. While the teams are divided by East and West, the players come together for the beneficiary of the event, Shriners Hospitals for Children. Learn more at http://www.shrinegame.com.
About Shriners Hospitals for Children
Shriners Hospitals for Children is changing lives every day through innovative pediatric specialty care, world-class research and outstanding medical education. The 22 hospitals in the United States, Canada and Mexico provide advanced care for children with orthopedic conditions, burns, spinal cord injuries, and cleft lip and palate.
Shriners Hospitals for Children is a 501(c)(3) nonprofit organization and relies on the generosity of donors. All donations are tax deductible to the fullest extent permitted by law. To learn more about Shriners Hospitals for Children, please visit http://www.shrinershospitalsforchildren.org.