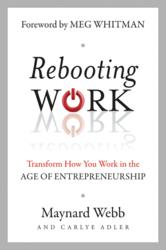 "You can't have everything you want, but you can have the things that really matter to you. Rebooting Work shows you how to make the right changes to get the most out of work—and life."
—Marissa Mayer, CEO, Yahoo!
San Francisco, CA (PRWEB) January 17, 2013
With Millennials entering a brutal workforce and Baby Boomers no longer able to retire, competition in the workforce has never been so stiff. Many would argue this is the worst time to enter the workforce, but business leader, investor and philanthropist Maynard Webb disagrees. He believes that just as the Industrial Revolution was defined by manufacturing that gave people jobs, today's IT revolution defined by new technologies, is giving people more flexible and empowering opportunities for work than ever before.
Work is broken, but there is an opportunity to fix it.
In his new book Rebooting Work: Transform How You Work in the Age of Entrepreneurship (Jossey-Bass; 978-1-118-22615-5; February 2013), former COO of eBay, LiveOps Chairman,Yahoo! and salesforce.com board member, and Webb Investment Network founder Maynard Webb, offers a compelling look at the changing nature of work and shares ideas and lessons learned over an exciting, varied and unlikely career. Webb argues that the old way of working no longer guarantees the same results, especially in this new era of entrepreneurship where talent trumps tenure and hard work is valued over entitlement. Everyone is voted onto the team every day.
Rebooting Work investigates the current work crisis and helps individuals understand how to develop, maintain and transition into careers that provide both financial security and fulfillment.
Through rich examples in technology, education, medicine and nonprofits, Webb clearly explains why the old systems are broken and what the future of work looks like Most importantly, Webb reveals how new technologies will change the way both individuals and companies view work and what it will take to reach success.