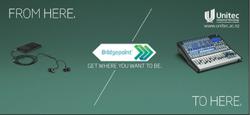 Auckland, New Zealand (PRWEB) January 23, 2013
Through a series of Foundation Education Certificates, Bridgepoint takes students to a point where they can apply for diploma or degree level study.
Bridgepoint spokesperson, Debra Robertson-Welsh, said Unitec is excited to work with both school leavers and career changers, to develop the vocational skills and knowledge they need to progress to higher education or successfully enter the workforce.
"Many people have goals, but we know that a barrier to success can be not knowing where to start. That's why we're thrilled to offer a service like Bridgepoint, which works with students to identify where they want to get to and the study path needed to get there.
We offer a broad variety of subjects, including social sciences, nursing, creative arts, engineering, construction, business and sport. And we're here to ensure Bridgepoint students get the most out of their study - supporting them at every step of the way towards their education and career goals", she said.
Bridgepoint programmes are aligned with the new Vocational Pathways initiative, a framework that links education with employment pathways. It means the study pathways are recognised by a wide variety of industries for their focus on relevant, vocational skills that are needed in the workforce.
Bridgepoint also offers small classes and a supportive learning environment. The programmes cater for all ages and backgrounds, enabling students to meet like-minded people with similar aspirations, who can help them achieve their goals.
Unitec's skilled lecturers and tutors will guide this process, giving students the confidence and technical knowledge they need to further their education and improve their career opportunities.
The first Bridgepoint programmes start on 25 February and applications are open now.
To find out more or to enrol in a Bridgepoint programme, visit http://www.unitec.ac.nz/bridgepoint.
About Unitec:
Unitec is the largest Institute of Technology in New Zealand and the largest provider of trades training. With 23,000 students enrolled in 165 courses, we are committed to the delivery of vocational and applied education, and practically orientated research.
For media enquiries, please contact:
Angela March | Beat Communications
angela.march (at) beat (dot) net (dot) nz | + 64 9 361 2335