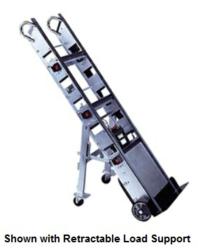 New York, New York (PRWEB) January 16, 2013
Handtrucks2go.com has taken a step in the right direction for those who rely on electronic moving equipment. The company, which specializes in dollies, jacks and other moving equipment, just introduced a full line of moving equipment. This makes it possible to easily move transport stackers, lift tables and a variety of other equipment.
Handtrucks2go.com now offers special pricing on electric stair climbers by top brands such as Escalera Lectro and Wesco. The prices of electronic moving equipment are usually quite high. However, Hand Trucks to Go now offers sales, often knocking hundreds of dollars off the original price of their products.
In light of this new line of electronic moving equipment, Hand Trucks 2 Go now has a special new program for purchasing agents. As a leading distributor of forklifts, stacker lift trucks and fork stackers, Hand Trucks to Go understands the need for discounts and now offers free shipping on select electronic moving devices. Power lift tables and other electronic moving equipment are must haves for home improvement and hardware stores. With the ability to lift as much as 6,000 pounds, lift tables from Hand Trucks to Go come in a variety of styles and colors.
Electric powered stackers are another commercial go to tool for those who haul equipment on hand trucks. Some lift stackers sold by Hand Trucks to Go come with manual stair climbers, making it easier to reach high places that would typically require a step ladder. Electric powered lift tables come in a variety of sizes and styles.
Hand Trucks to Go is happy to work with clients individually to make sure they get the service and product they want. With vast experience in business, services representatives at Hand Trucks to Go are knowledgeable about their products and their features.
Electric lift stackers sold by Hand Trucks to Go are quite diverse. Many of them come with manual drive abilities and are great for working on pallet racks. Customers have more than 40 models to choose from. With such a large selection, customers will find exactly what they need. Because they are so knowledgeable about their merchandise, representatives at Trucks to Go will help you make wise purchasing decisions.
For the most part battery powered, some power stackers at Hand Trucks to Go are able to lift up to 2,700 pounds.
###