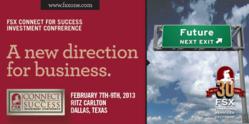 Dallas, TX (PRWEB) January 17, 2013
The premiere Investment Conference organization, Financial Services Exchange (FSX), is celebrating their 30th Anniversary and their Executive Director has announced that they have great sponsorship opportunities to offer premiere exposure in front of broker dealers/funding sources, presenting companies, and resource companies such as:

Exposure on the FSXInterlinked Channel
Banner on the FSX website
Extra Speaking time at the event
Receptions
Lunches
Conference Bags & Conference books
& more
In addition to the standard benefits, FSX continues to provide presenters with feedback and exposure months after the Investment conference has ended. "Once the event is over our goal is to provide you with ongoing exposure," said FSX's Executive Director, Judy Ensweiler. Ensweiler added that there are a limited number of sponsorships available for their upcoming conference that will be held from February 7-9 at the Ritz Carlton in Dallas, Texas.
Financial Services Exchange, Inc. ( FSX ) meets four times per year in a different major U.S city to connect emerging growth companies with a nationwide network of financial investment professionals. The CEOs and other Executive Officers of the presenting companies come together at the quarterly investment conferences with the principals and key decision makers of the Broker/Dealers and other financial firms.
FSX provides a forum where Presenting Company CEOs seeking capital and/or market support can go to showcase their companies in a dedicated environment that is conducive to networking and building financial relationships. Instead of traveling around the country to meet with these people individually, meet them all in one place…at an FSX Investment conference.
About FSX
FSX is one of the most reputable and established national alliances in the country for the independent broker/dealer network, providing education and opportunity. At each FSX conference, we bring the CEOs and executive officers of the presenting companies together with the principals and key decision makers. For more information visit http://www.fsxone.com