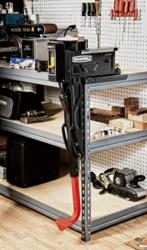 Charlotte, NC (PRWEB) January 16, 2013
Rockwell's new BenchJaws has many of the same qualities and features as the Rockwell® JawHorse®, rolled into a benchtop workstation. This benchtop vise mounts to the corner of most workbenches and unlike utility vises whose jaws only open to 10 in., BenchJaw's secures objects up to 16 in. wide.
Like JawHorse, space-saving BenchJaws is a hands-free clamping system for workbenches. The jaws, like the JawHorse are foot-pedal activated leaving the operator's hands free to handle the workpiece. It mounts to a corner of a workbench through a steel, L-shaped plate with pre-drilled holes for two-position mounting. Once the L-shape plate is installed, the vise can be rotated 90° by loosening the thumbscrew that holds the unit in place.
The vise's patented foot pedal design closes its jaws by 3/4 in. with each pedal stroke. This pumping action compresses the jaws until the workpiece is secured. The jaws measure 6-7/8 in. x 1-7/8 in. and have a face plate constructed of non-marring polyurethane.
BenchJaws is ideal for do-it-yourselfers, woodworkers, hobbyists and crafters, remodelers and automotive enthusiasts, by providing an extra set of hands to juggle projects and materials. Refinishing a rocking chair, building a kid's stool or refurbishing a window are just some of the projects that makes BenchJaws the ideal vise.
BenchJaws is constructed of heavy gauge, powder-coated steel for strength and rigidity. The 22 lb. workstation has a clamping range of 0-16 in, and supports loads up to 220 lbs. The vise generates up to one metric ton (2,200 lbs.) of clamping force. BenchJaw's accommodates most workbenches by featuring a foot pedal with four, adjustable height settings. The vise mounts to workbenches that are at least 34 in. high.
The Rockwell BenchJaws features optional accessories including the Extension Jaw Accessory, (RW9207, $39.99) and the Multipurpose Jaw Accessory, (RW9208, $39.99).
The Extension Jaw Accessory increases clamping capacity from 16 to 24 in. It is constructed of the same heavy duty steel as JawHorse, the Extension Jaw slides onto the main body in place of the standard jaw.
The Multipurpose Jaw is self-aligning to accommodate both tapered and round objects. It houses three stops (dogs) for additional clamping versatility. Ideal for sanding, gluing and painting operations, it's constructed of steel, weighs 3 lbs. and connects to the BenchJaws simply by removing the jaw pads and bolting onto the fixed and sliding jaws.
The Rockwell BenchJaws (RK9006, $99.99) and accessories; Extension Jaw, (RW9207, $39.99) and the Multipurpose Jaw, (RW9208, $39.99) are available through Woodworkers Supply, Menards, Amazon.com, http://www.rockwelltools.com and other websites. It's also available through regional hardware and home centers nationwide.
# # #