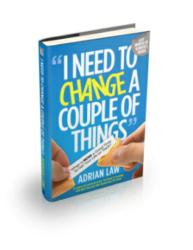 "The best investment you can ever make is in yourself." - Adrian Law
Bondi Junction, NSW (PRWEB) January 17, 2013
If 2013 has already started with falling short of those ambitious resolutions, perhaps it's time for a dramatic change in mindset—after all, time is running out faster than you think. Consider this. The average person lives to be 80-years-old. This translates to a little more than 4,000 weeks left on earth. Anyone that is half that age, well, do the math. Depressing, huh?
From losing weight to getting out of massive debt, I Need to Change a Couple of Things aims to help readers do just that by looking at life a little differently than what other life experts might. Forget about what others say about the "key" to generating life happiness. In Law's first self-help book, there are quite a few surprises including:

Why it's a bad idea to treat people how you'd like to be treated
Why most beliefs do more harm than good
Why experiencing emotional pain in the present moment is impossible and serves as a roadblock to achieving success and desires
When it comes to interacting with other people, "Treat them how THEY want to be treated," says Law. "If I treat them how I want to be treated, I may miss the mark completely." This is just some of the advice offered up in Law's book. In another portion of the author's book, the reader will learn how in just 20 minutes one man let go of a 23-year-old belief and turned his life completely around.
Written for master procrastinators and for those motivationally-challenged, Law's book will also teach readers the three key words that transform how much they achieve, the secrets to working less and earning more, getting out of debt, attracting lucrative opportunities in life, eliminating fears, achieving positive results every time, and much more.
Composed of 26 short, easy-to-read chapters, I Need to Change a Couple of Things contains practical, real-life examples to assist readers with the life makeover they eagerly desire. Each chapter also includes a summary of major key points and space for readers to write their own notes of encouragement. The book can be purchased through Amazon.com, iTunes, and the author's website. Ten percent of the proceeds will go to Hands Across the Water, an organization created after the 2004 tsunami and assists hundreds of disadvantaged children in Thailand with food, shelter, education, and life-changing opportunities.
About the Author: A native of England and proud father to his young daughter, Adrian Law has called Australia home for nearly two decades. From celebrities to top company executives, he has traveled to more than a dozen countries, coaching and empowering thousands along the way. Law is a qualified success coach, motivational speaker, body language expert and behavioral profiler. He's been featured in major publications including Australia's The Daily Telegraph and has appeared in the popular documentary The Power of Coaching with Brian Tracy and John Assaraf of The Secret. While professionally trained to help others, his best advice comes from his own life experiences.