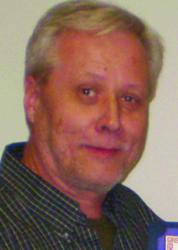 I did no more than anyone else would do. I don't know how you could just drive by.
Alexandria, VA (PRWEB) January 16, 2013
Ronnie Milner of Valparaiso, Indiana, a professional truck driver for ABF Freight System, Inc., of Fort Smith, Arkansas, has been named a Truckload Carriers Association (TCA) Highway Angel. Milner is being recognized for helping an elderly couple in trouble on the highway.
On September 13, 2012, around 1:45 p.m., Milner was driving southbound along I-57 near Gilman, Illinois, when he saw a white Buick turned sideways across both lanes. He stopped, put on his flashers, and went to investigate.
Inside the car, he found an elderly couple. Apparently, the husband had run into the cables in the median, which pushed the car back into the middle of the road. It was now severely damaged and blocking traffic. Milner determined that the motorists were shook up, but not injured, so he helped them out of their car and escorted them to the shoulder. He then called 911 and used his truck to protect the vehicle from further damage as motorists tried to squeeze past the wreck. Milner stayed at the scene until authorities arrived and took over.
Milner, who has been a truck driver since 1989, says he has "seen some good, and seen some bad" during his years on the road. "I did no more than anyone else would do," he said modestly. "I don't know how you could just drive by."
For helping the couple, Milner has received a Highway Angel lapel pin, certificate, and patch. ABF Freight System also received a certificate acknowledging that one of its drivers is a Highway Angel.
The Highway Angel program is sponsored for TCA by Internet Truckstop. Since the program's inception in August 1997, hundreds of drivers have been recognized as Highway Angels for the unusual kindness, courtesy, and courage they have shown others while on the job. TCA has received letters and e-mails from people across North America nominating truck drivers for the program.
To learn more about the Highway Angel program or to nominate a driver, please visit http://www.truckload.org/highway-angel.
# # #
TCA is the only national trade association whose collective sole focus is the truckload segment of the motor carrier industry. The association represents dry van, refrigerated, flatbed, and intermodal container carriers operating in the 48 contiguous states, as well as Alaska, Mexico, and Canada. Representing operators of more than 200,000 trucks, which collectively produce annual revenue of more than $20 billion, TCA is an organization tailored to specific truckload carrier needs.
Founded in 1995, Internet Truckstop is the first and largest freight matching service on the Web. Internet Truckstop offers more tools than any other freight matching service available. These easy-to-use tools, the largest freight database, and a commitment to the transportation industry make Internet Truckstop the leader in Internet freight matching.