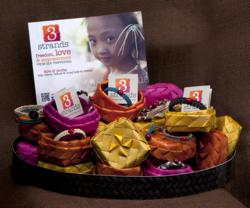 "When I first learned about the lives of sexual slavery these women were facing each and every day, I was moved to do something to make a difference," said Ken Petersen, founder of 3Strands and owner of the Apricot Lane Boutique franchise.
Los Angeles, CA (PRWEB) January 16, 2013
3Strands Global is a fashion brand created in 2012 working to fight human trafficking around the world. With the sale of every 3Strands handmade bracelet and gift box, money is raised to help empower, teach and employ young women who have been rescued from the evils of human trafficking. Profits from 3Strands helps to support organizations like Agape International Mission (AIM), based in Cambodia, that help to rescue and restore these young victims. In honor of January being the recently declared Human Trafficking Awareness Month all bracelets purchased at http://www.3Strandsglobal.com using code AWARE will receive free shipping and have 100% of the profits donated back to AIM along with Apricot Lane Boutique matching the 100% donation.
3Strands was worn by Jada Pinkett Smith when she supported Prop 35 during the election. Bracelets are also in the hands of Ben Stiller, Jennifer Aniston, Tom Cruise, President Clinton, Will Ferrell and so many others as 3Strands was a chosen brand to be featured in the American Cinematheque celebrity gift bag.
"When I first learned about the lives of sexual slavery these women were facing each and every day, I was moved to do something to make a difference," said Ken Petersen, founder of 3Strands and owner of the Apricot Lane Boutique franchise. "My eyes had been opened to an evil that I thought was only a third world problem but I have since learned it exists in every major city in the United States and effects young women and children as young as four years old. In fact, according to the FBI – Sacramento, where our headquarters is near, is the 4th worst City in the U.S. for sex trafficking."
AIM is doing an incredible job rescuing girls and young women from the grips of human trafficking. Their rehabilitation center in Cambodia is helping the survivors heal. A recent documentary called "The Pink Room" http://thepinkroommovie.com/ focuses on the efforts of AIM and has received awards and recognition by international film festivals.
"When I asked Don Brewster, founder of AIM what we could do to help, he told me what these girls need after being rescued and restored are sustainable, well paying jobs in safe environments so they can reintegrate into their culture with dignity and honor. That's where 3Strands came into play!" said Petersen.
In April 2012, Petersen and a small group of colleagues from Apricot Lane traveled to Cambodia to see firsthand the work AIM was doing. Understanding that sustainable work was key to their survival, the Training Center was created! Upon arriving in Cambodia, the group visited the Agape Restoration Center (ARC). This beautiful, serene campus residence is where young girls are brought once they are rescued. The ARC welcomes broken girls into a safe environment, with nurturing loving relationships and a healing program. Young women and children as young as four years old are rescued and restored in this compassionate environment – lives are rebuilt – dreams are created – hope is born!
The 3Strands group was determined to find a symbolic reference to represent these young women and their country of Cambodia. The discovery of seeds from the native Sandalwood tree were literally underfoot. From this litter of dry, colorless pods, the women select a fragile red seed to include in each bracelet they make. The natural beauty of this glossy, scarlet seed represents the beauty in each of the women who have been freed and empowered with a hope for the future. To Don Brewster, founder of AIM, these once discarded seedpods equate well with the human trafficking industry. Each 3Strands bracelet proudly carries with it a reminder of the inner beauty of its creator along with their personal signature.
The Agape Training Center (ATC) is where these bracelets are created. This small jewelry and apparel training center is unlike any other in the world. Instead of a factory life working 12 hour shifts in horrible working conditions, the women attend ATC for 8 hours each day. During that time they receive counseling and educational services as well as lunch and medical benefits. Their salaries are 3–4 times higher than what the typical garment factories located in Cambodia pay. This community, where rehabilitation meets vocation, is built upon respect and compassion for one another in a family environment.
While AIM manages the Training Center and creates the unique, handmade jewelry and apparel designs, 3Strands purchases the products from ATC to market and distribute the products across the country through Apricot Lane Boutiques, http://www.apricotlaneusa.com. In addition, the bracelets are sold via e-commerce (http://www.3StrandsGlobal.com) where regularly (months other than January) 50% of profits from sales help to fund Agape International Mission. The higher the demand for the bracelets, the more young women AIM and 3Strands can provide sustainable jobs. It is their combined goal to open Training Centers around the world where rescued young women can come and rediscover the beauty within them by creating these bracelets!
3Strands hopes that individuals who buy and wear these bracelets will be reminded that they are changing the lives of young women around the world – and maybe the troubles of the day aren't quite as bas as the troubles others face!
For more information visit http://www.3StrandsGlobal.com. Make a difference in the life of children and young women around the world just by buying a bracelet.