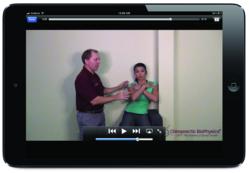 Posture and Functional Movement Analysis with Exercise Prescription made easier.
Trinity, FL (PRWEB) January 16, 2013
PostureScreen Mobile, the world's most popular posture analysis software, has just announced through its partnership with WebExercises, Inc. that it will offer new updated Mirror Image® Exercise content. Many of these exercises now feature instructional videos taught by top spinal researcher Dr. Deed Harrison, CEO of CBP® Technique and Seminars; these videos can be emailed to your patients in seconds using your iPhone or iPad. These new videos provide the necessary follow up patient education that will support your in-office care.
Once a posture analysis has been performed, a fitness or healthcare professional can then choose Mirror Image® postural corrective and functional exercises to their clients or patients. These exercises were hand selected by top postural and spinal experts Dr. Deed Harrison, Dr. Joe Ferrantelli, and Dr. Dave Cruz as the most common postural abnormalities commonly addressed by posture professionals. Now with the recent January release of the new video content, patients or clients will be guided through their corrective exercises by Dr. Harrison himself.
Also announced to be available shortly on PostureScreen Mobile will be full Motion Capture Analysis, allowing healthcare and fitness professionals dynamic assessment of their patient's/client's movement patterns from spinal ROM to a golf swing to functional movement analysis. Full running gait analysis can also be performed as well as pre- and post RockTape movement analysis.
Posture Screen Mobile continues to strive forward giving the structurally based rehabilitation specialist the tools they need to accurately assess posture and movement patterns while aiding in exercise prescription - all within the palm of the clinician's hand.
PostureCo, Inc. is a technology company focusing on radio graphic and postural based EMR products. PostureScreen Mobile is available in Apple iTunes AppStore as well as Google Android Play Store. The exercise module for Android is targeted for release in mid 2013. http://www.PostureAnalysis.com.
WebExercises, Inc. is a cloud based exercise prescription and management platform with thousands of exercises. http://www.WebExercises.com.