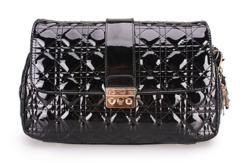 (PRWEB) January 16, 2013
Today, FastHandbags.com, a reliable supplier of designer handbags, updates its website to introduce its new arrival – ladies shoulder bags. According to Bryan John, CEO of FastHandbags.com, all consumers are qualified to enjoy the discounted prices online, and free shipping worldwide is available for any order.
There are only two ladies shoulder bags available now, but the company will continuously add new items to its product line to satisfy the growing demand in the market, and develop its market share as well.
On the updated page of FastHandbags.com, many photos and descriptions have been added to give a comprehensive introduction to their products, and there is no exception to the new ladies shoulder bags, which have these several characteristics: high-quality leather, well-designed, fashion-forward, fine tailoring, and meticulous production.
"The shoulder bag is relatively small and exquisite, and it also can serve as an evening handbag for a party night. The elegant and stylish design surely makes you become the focus of the party," Bryan John said.
Bryan John continued, "Each leather shoulder bag from us is not only a tool for you to carry personal items, but also a symbol of a woman's taste and statuses. Our goal is to facilitate confidence and authenticity by granting women everywhere the freedom to choose how to express their individualism through style."
Besides ladies shoulder bags, FastHandbags.com is offering other popular styles of ladies tote bags, hobo bags, and satchel bags. They are committed to providing each customer with the hottest handbags in the market with superior service.
About FastHandbags.com
FastHandbags.com is a leading online supplier offering stylish and high-quality handbags with free shipping to each customer. FastHandbags.com aims not only to give ladies top quality handbags at affordable prices available they are looking for, but also deliver accurate and helpful reviews on women's handbags.