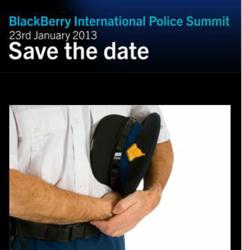 MPASmartDock has been strongly supported by half a dozen agencies who will be attending the inaugural BlackBerry International Police Summit.
Amsterdam, Nederland (PRWEB) January 16, 2013
Just one week ahead of the January 30th release date for RIM's BB10 – the first BlackBerry® OS built on QNX -- the RIM® UK team is celebrating a first of its own with the world's inaugural BlackBerry International Police Summit. Traditionally held and hosted domestically in the UK, the event has now been expanded to accommodate the rising tide of international interest from a growing global audience. A select group of delegates and VIPs from law enforcement agencies in Africa, Central and South America, as well as the EU and North America will be attending this year's exclusive, invitation-only summit.
Gary Bauer and Bruce Murchie -- the respective Presidents of Mobile Innovations and Xenium Solutions who are both BlackBerry Alliance Partners as well as business partners -- will also be in attendance. Their longstanding client, the South Wales Police, will be delivering a keynote presentation on their use of the Mobile Innovations platform of apps for day-to-day policing with PlayBook and BlackBerry, and they have been invited be on hand to answer questions and provide interested attendees with more detailed information.
Timed to coincide with the International Police Summit and launch of BB10 OS, is the production model release of Mobile Innovations' MPA SmartDock, the company's new in-vehicle PlayBook mounting solution.
MPA SmartDock is the physical backbone of Mobile Innovations in-vehicle policing solution and provides full-time charging and a Micro USB port in an air-bag compliant design. Along with a 4G LTE™ BlackBerry PlayBook™ and basic MPA PlayBook apps, the MPASmartDock is available for a price of approximately nine hundred to one thousand dollars US, depending on the quantity and configuration required. Lowering the cost of entry for mobile policing by over 80% versus a standard ruggedized laptop up-fit, the SmartDock installs in any make or model of vehicle with no modifications, wiring or on-board IT, and can be installed within a couple of hours by any trained mechanic.
"Our MPASmartDock program has been strongly supported in the beta testing phase by half a dozen agencies who will be attending this year's BlackBerry Police Summit." Explains Mobile Innovations President Gary Bauer. "So we're really jazzed to be able to offer them production models right here and now, at this landmark event for BB 10 policing."
As Mobile Innovations 'Feet on The Street' in the UK and the go-to client service and sales support specialist for agencies like the New South Wales Police, Xenium Solutions will be leading sales and marketing for the new program throughout the entire European Union.
"It is great for us that our new MPASmartDock and Pelican case solutions are launching here at the BlackBerry International Police Summit. It gives us a chance to demo our new BB10 and PlayBook apps, and to set up benchmark testing for customers here in their own jurisdictions throughout the EU." Says Xenium's Murchie.
###
For more information, please contact:
Gary Bauer – President
Mobile: 1-416-889-9997
Email: garyb(at)mobinnoco(dot)com
Mobile Innovations is a privately held company dedicated to enhancing law enforcement with the most advanced mobile data products available. Based in Niagara Falls, Canada, Mobile Innovations also has operations in Toronto and works with over fifty agencies across Canada, the United States and in the United Kingdom. Mobile Innovations is a member of the BlackBerry® Alliance Program with six years of service developing and deploying advanced mobile solutions for BlackBerry devices