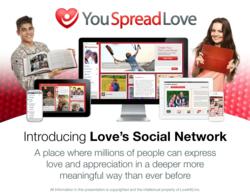 Facebook connected the world. YouSpreadLove will open its heart.
Hollywood, CA (PRWEB) January 17, 2013
Until now, there has been no one place on the internet designed specifically for people to express love and appreciation to one another. YouSpreadLove.com is a safe and familiar place where a person can send love from many to one for any of life's occasions.
Unlike its competitors, YouSpreadLove.com focuses on a variety of features that gives its audience a reason to keep using the site beyond the initial intent. The 3 features showcased are: LoveAlbums, LoveBlasts & LoveGroups.
A LoveAlbum is a beautifully printed book of letters and photos all about one person. A person chooses someone they love, invites their friends and family to contribute online, arranges the entries, and orders a printed book that their loved one will cherish forever. This is an incredible gift. One early recipient said, "It's just a beautiful, beautiful book and I am so happy."
A LoveBlast is a free group e-card from many to one. Just like a LoveAlbum, LoveBlasts can be used to give love and support at a time of great need, to say "Happy Birthday", "We miss you" or to show well deserved admiration for a great achievement.
A LoveGroup is a public place for expressing love and appreciation to your heroes. YouSpread Love states, "You can tell your heroes how you feel and invite the world to join you. Your LoveGroup may potentially be joined by millions."
Thanks to crowd funding leader, Indiegogo.com, YouSpreadLove is raising the finishing funds needed to launch Love's 1st Social Network. Contributors have the opportunity to pre-order LoveAlbums at a discounted price and be the very 1st to test out the YouSpreadLove.com platform.
Most people agree there needs to be more love in the world, and YouSpreadLove.com has a technology that does just that.