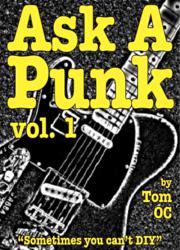 ...he delivers... with an intelligent, no bullshit manner that is punk rock to a tee.
Los Angeles, California (PRWEB) January 16, 2013
After a brief hiatus, southern California writer/comedian/ punk rocker Tom O'Connor is announcing the relaunch of his weekly ASK A PUNK advice column at askapunk.com. New posts will be appearing every Wednesday morning on the newly revamped and updated website.
In addition to the website update, O'Connor has created his first eBook "Ask A Punk Volume 1", (2012. ISBN# 9781476051680) available at every major eBook retailer, including Amazon.com, Barnes & Noble, Kobo, Diesel and of course Apple Books in the iTunes Store. The book compiles the best questions and answers from the earliest days of the website. Free copies are available for reviewers. Early reviews are strong, including rock publication "Hysteria" magazine (Australia):
"Not only does O'Connor have some knowledgeable responses to issues that a lot of us ponder… he delivers them with an intelligent, no bullshit manner that is punk rock to a tee." - Lindsey Cuthberson
Launched in 2008, the advice blog "AskAPunk.com" was created by Tom O'Connor who described the site's mission as follows: "These are serious times and I think that Generations X and Y have bigger questions now than just 'What is or isn't punk?' I wanted to create something with a Punk Rock sensibility that addressed those sorts of concerns. No topic is off-limits… My punk bands were as numerous as they were awful & forgettable, but the concepts of self-sufficiency, DIY, supporting your community and living within (or below) your means took hold and have never let go."
Tom O'Connor is a writer and comedian who discovered punk rock as a kid in a movie theater in 1980, when he heard his first Ramones song while watching the film "Times Square." He soon found himself in a succession of painfully earnest, but usually inept bands. Those experiences shaped his life, outlook and his comedy. In the decades since, he has stayed true to his DIY roots while working as a writer for television, film, videogames, animation and print (including, McSweeney's, DC Comics and the Los Angeles Times.) He'll also give a free first guitar lesson to almost anyone who asks for one. He is a graduate of Hampshire College in Amherst, Massachusetts. His main website is: planetoconnor.com.