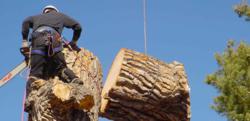 Better Be Safe Than Sorry!
The Woodlands, TX (PRWEB) January 23, 2013
"Storm-damaged trees are a potentially hazardous threat to everyone," says Boone McDonald, President of Boone's Landscaping, LLC, which recently launched Tree Service Houston. "Trees and large branches that come crashing down during storms can wreak havoc, and the liability can be costly."
McDonald explains that recent droughts throughout the region have severely weakened trees, making the trees overly-susceptible to strong winds from seasonal storms.
"The good news is that these problems can be averted," explains Boone McDonald.
Tree Service Houston provides the following tips to avert tree damage from storms.
1. Keep trees as healthy as possible with timely watering and proper fertilizing. Healthy, rigorous trees adjust more quickly to changes in the environment; they are more wind-resistant; and they will counteract more effectively to damage-inducing environments.
2. Remove or treat pest problems, like branch cankers and pine bark beetles, to minimize potential weakening and massive tree loss.
3. Practice proper pruning techniques by cutting branches before they become too large and create stress on the trees. Improper pruning damages the tree and provides an avenue of attack for insects and pests. Proper pruning minimizes a number of structural problems that occur in association with new wood growth around a pruned branch.
4. Select trees that can stand up to storms. Trees with genetically weak structures such as Mulberry are more likely to sustain damage in a storm. Trees that are known to be more storm resistant include White Oak and Cypress.
5. Get tree-trimming from a professional. Pruning, tree-trimming, and overall maintenance reduces the risk of storm damage from breakage and uprooted trees. A trained tree-trimming professional will remove dead, rotted, and weakly attached limbs. The tree trimming should also include thinning the crown to reduce strain from wind and top-heavy limbs.
"These are the steps that will help you to ensure that work is done professionally," says McDonald.
McDonald further advises, "One must be cautious when choosing a tree service company. Homeowners need to check references, credentials, and insurance coverage."
A good Tree company will carry Workers' Compensation Insurance to prevent you, as the customer, from having any liability associated with the medical reimbursement or life-loss associated with tree removal. Statistically, tree removal is one of the most dangerous professions, and there are a lot of amateurs who do not have experience necessary to complete the job safely. (Would you, want a trainee working in one of your trees? Better yet, how about a trainee working for a fly-by-night company that carries no workers' compensation insurance?)
A well-established, respected tree company should have your best interest in mind; the standard general liability insurance required in the tree removal industry is $1,000,000.00. So, remember the golden rule when evaluating a tree company to remove your trees is: Are they experienced? Do they carry general liability in excess of $1 million, and do they have workers' compensation? It also helps to look for ratings and reviews of the company online.
Tree Service Houston gives free written estimates and offers 100% customer satisfaction. Tree Service Houston has been selected as one of the most dependable tree removal companies by The Woodlands Township; The Woodlands, TX, and it has successfully removed thousands of trees for The Woodlands Township without a single accident. Tree Service Houston has done work for the city of Conroe,TX, removing hundreds of trees in their parks and for The Port of Houston, pruning their trees. Tree Service Houston provided relief after Hurricane Sandy by removing giant evergreen trees, and massive oak trees off the tops of houses, cars, and buildings. Tree Service Houston is a well-qualified and established company that residents can depend on.
About Tree Service Houston: Tree Service Houston is a full-service, expert tree-care company dedicated to providing professional quality services in planting, removing, or maintaining trees and vegetation. Tree Service Houston was launched by its parent company Boone's Landscaping, LLC, a leading Houston landscape design company.
They can provide you with normal assistance and/or emergency assistance by contacting the number below.
Boone McDonald
President Boone's Landscaping, LLC