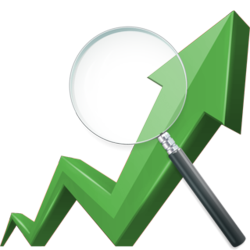 (PRWEB) January 16, 2013
The release of Market Analyst marks the beginning of a new line of investment tools from Bare Reef. Drawing from user feedback and years of experience developing the cross-platform portfolio management application Portfolio mobile, Bare Reef is creating added value for investors on the Mac platform.
Market Analyst distinguishes itself with key features not previously found on the Mac including customizable market scanning and side-by-side chart comparison. Users familiar with Portfolio mobile already appreciate the wide range of features and unparalleled support for international online quote sources. Market Analyst expands on these capabilities with enhanced news in the form of additional RSS news feeds.
Investors will find value in Market Analyst for a multitude of tasks ranging from quickly checking quotes to analysis of technical patterns. By combining the power to identify market trends and position entry points in Market Analyst with the performance tracking capabilities of Portfolio mobile, Mac users have a complete investing solution with drag and drop integration.
Minimum Device Requirements:

Pricing and Availability:
Market Analyst is available worldwide exclusively from the Apple App store for $14.99 USD (or equivalent amount in other currencies).
Bare Reef LCC was founded in 2006 by Greg Hoover to provide customer-driven applications for investors of all backgrounds. Bare Reef develops desktop applications, web-based services and mobile apps for a variety of platforms. Its flagship product, Portfolio mobile (previously StockTrac), comprises a line of mobile and desktop apps that boast an unparalleled feature set and the most responsive support. For further information, review licenses, or to schedule interviews, please contact Bare Reef President Greg Hoover. Copyright (C) 2013 Bare Reef LLC. All Rights Reserved. Apple, the Apple logo, iPhone, iPod and iPad are registered trademarks of Apple Inc. in the U.S. and /or other countries.
Greg Hoover
President
ghoover(at)barereef(dot)com