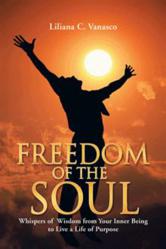 The book is the outcome of my personal transformation, of the discoveries I made by connecting with my inner voice and of my soul seeking expression
PERTH, Australia (PRWEB) January 17, 2013
Author Liliana C. Vanasco describes the genesis of her new book "Freedom of the Soul: Whispers of Wisdom from Your Inner Being to Live a Life of Purpose" (published by Balboa Press) as the result of her personal journey to find meaning and restore balance and happiness into her life.
"I didn't start with the idea of writing a book," she says. "The book is the outcome of my personal transformation, of the discoveries I made by connecting with my inner voice and of my soul seeking expression."
The purpose of "Freedom of the Soul" is to help readers change the way they experience life by making conscious choices, becoming mindful of their inner powers, embracing the truth that their existence is purposeful, and awakening to a new consciousness and a new way of being and living. Vanasco hopes that her words will bring clarity and wisdom and guide readers on a journey of transformation to live life as one with their soul and one with the all.
An excerpt from "Freedom of the Soul":
"Once upon a time there was light, and the light became human, and then man forgot he was light, all-powerful light. Now it is time to remember, and by doing so, man will obtain the freedom he was born to seek."
"Freedom of the Soul" possesses a kind, powerful energy that will build a rapport with its readers and entice them to continue learning, discovering and engaging in the suggested practices page after page, day after day.
"Freedom of the Soul"
By Liliana C. Vanasco
Softcover | 6 x 9 in | 320 pages | ISBN 9781452507477
E-Book | 320 pages | ISBN 9781452507484
Available at Amazon and Barnes & Noble
About the Author
Liliana C. Vanasco attended the University of Buenos Aires, where she graduated with a bachelor's degree in computer science. For over 20 years, Vanasco enjoyed a successful career as a software engineer and information systems analyst for large international corporations in the banking, mining and information technology industries. Over the last 12 years, she has trained in and been practicing Reiki healing, meditation, crystal healing and life coaching; skills that she complements with her studies of counseling and transactional analysis. She has also trained in the philosophies of Louise L. Hay and leads Heal Your Life workshops and groups.
Vanasco lives in Perth, Australia, with her husband and two daughters, where she devotes her time to raising her family, writing, coaching, practicing Reiki, teaching and enjoying the magic of life.