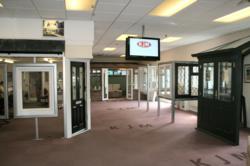 30 years old
Andover, Hampshire (PRWEB UK) 17 January 2013
Hampshire based specialist window, door and conservatory installer KJM Group Ltd is celebrating it's 30th birthday. The KJM idea was formed in 1982, taking its name from the three founding directors Ken Hammant, John Creasey and Mick Burrell. They began manufacturing in early 1983.
Although the were very successful over the first decade, the economics of manufacturing on a relatively small scale proved not to be cost effective and, with many new materials becoming available and customer trends requiring a more diverse range of products, they ceased manufacturing in 1996. This move enabled KJM to offer a much larger product portfolio. Today they offer a huge range of windows both triple and double glazed, doors and conservatories in uPVC, aluminium and hardwood.
KJM is now run by Managing Director and owner Mark Pearce. Mark joined the company in 1983 and has a vast wealth of experience in management, sales, manufacturing and installation. The company success has been brought about by many factors, but Mark believes that the main reasons are the loyalty of the staff that the company employs and the quality of products that they install. Installation Manager Lee Seffron has worked for the company since he left school (over 20 years), five of the company's installers Andy, Kerry, Steve, Lester and Rob have worked for the company for a similar time. The building team Anthony and Colin have both been employed by the company since 1998. Mark is selective about the suppliers KJM uses in order to ensure the highest quality and, whilst naturally conscious of costs, he relies on the old adage that "cheapest is not always the best". He also believes KJM offers one of the most comprehensive warranties in the business as "we have been trading for almost three times the length of our warranty and honour our commitment the customer"
KJM are based in Andover, Hampshire. Their showroom is open Monday to Thursday 9.00am to 5.30pm, Friday 9.00am to 5.00pm and on a Saturday between 10.00am and 4.00pm.