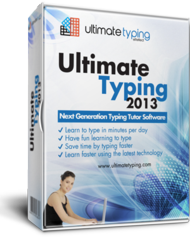 The good thing about Ultimate Typing is that it lets the user take the reins, right from the beginning of the program.
New York City, NY (PRWEB) January 23, 2013
Finding a typing tutor software that can get the job done despite logistical problems, such nonstandard keyboard layout, can indeed be difficult. Fortunately, there's eReflect's Ultimate Typing software, which offers intuitive support for users around the world. Even a Scandinavian user recently found it extremely helpful in learning typing, despite the rather different system of the computer keyboards in that country.
According to the user review, the program's advantage is that it is definitely easy to use. Installation was not a problem for the user, nor was starting up the software. The good thing about Ultimate Typing is that it lets the user take the reins, right from the beginning of the program.
What this means is that the program starts by asking the user what they want to achieve using the program. With this, the user is able to start out with an idea of the specific things that they want to accomplish regarding their typing skills, which makes it easy for them to focus on and achieve those goals. The customizability of the program continues throughout the software's structure, allowing complete flexibility for each user.
For someone whose first language was not English, the difference in the keyboards did present some difficulties. However, this was not necessarily hard to overcome. The program does allow for the user's learning curve to be adjusted. Even allowing for a few intrinsically unique features of the Scandinavian keyboard, the program still proved to be intuitive enough, according to the user review.
On top of all of the flexibility, the program has integrated literally hundreds of lessons and practical exercises. The tutorials promote and support the exercises and help the user put the lessons into practice. This guided learning is where the results are actually delivered by Ultimate Typing to the user.
It's also important for the user to have the ability to see how well they are doing as they proceed through the lessons. That's why eReflect has included a progress tracker in the program. This way, the user can see how much more they will need to do before they achieve the goals they set at the beginning.
What this review has shown is that Ultimate Typing is indeed one program with world-class quality.
For more information about the Ultimate Typing software, visit http://www.ultimatetyping.com/.
ULTIMATE TYPING SOFTWARE is a tutorial program designed specifically for the improvement of typing skills. It was created by eReflect, a world leader in e-learning and self development software.
Since its creation in 2006 by its director, Marc Slater, the company has already catered to over 112 countries all over the world, offering products with the latest cutting-edge technology, some of which are among the world's most recognized and awarded in the industry.