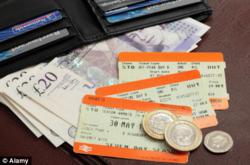 Travellers may now look at alternatives for transport
Kent (PRWEB UK) 18 January 2013
The average train fare rose to about 3.9% as 2013 began. With the rise in train fares, a recent poll shows that there may be a decrease in how many holiday makers would actually use the train for holiday travelling. The survey carried out on 5,332 British Travellers, between 17th August – 24th August 2012 revealed a despondent response that travellers would be less likely now to use the train for travelling for and to holiday destinations.
"This news, however, would not stop British travellers from going on holidays, as other surveys have shown for this year already. Travellers may now look at alternatives for transport to get them to their holiday destinations." Paul Steadman, Managing Director of Luggage Superstore, responds to this information.
As Luggage Superstore talks daily with travellers, this certainly may be disappointing news on the rise in train fares but now it may seem that airline travel may be more popular even for journeys where passengers may have opted to use a train journey.
Luggage Superstore's established site is in West Kingsdown, Kent. Their aim is providing competitive prices of the highest quality luggage and top calibre Customer Service for online luggage shopping.Luggage Superstore recommends Samsonite Luggage.
Trina Chee-a-kwai
Luggage Superstore
01474854666
Email Information