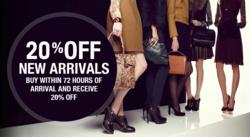 In the meeting, the board decided to add budgets on Oasap Fashion Hunter Program in 2013 and launch a new cooperation program from January.
New York, NY (PRWEB) January 18, 2013
The board meeting was chaired by OASAP Limited CEO, Mr. Moore. Mr. Moore made an annual report to the board for the development of OASAP company in the year of 2012, and summed up the problems and corresponding solutions; meanwhile, he also reported to the board about the ideas, plans and the budgets of the development for the year of 2013, and submitted to the board for approval.
In the year of 2012, OASAP established good relationships of cooperation with over 5,000 fashionistas from all over the world, and showed consumers more than 25,000 pieces of popular clothing, shoes, bags and other jewelries together, so made OASAP brand grow as a new star among the global fashion online retail stores.
On the conference, the OASAP board passed three proposals for the year of 2013:
1. Continue to update not less than 25,000 new products this year. In 2013, OASAP new products will be mainly concentrated in three main categories, that is, clothing, shoes and bags. These will be the main wind vane of global fashion; you will see an OASAP brand with more stylish spirit in 2013.
2. To strengthen the requirements of quality control from the cooperation factories. OASAP developed too fast in 2012 and updated the products in a vast quantity, but paid less attention to quality control from the suppliers. The board decided to concentrate the orders to those high-quality suppliers in 2013.
3. To strengthen the control of order processing procedure. OASAP will strengthen the control in products selection, pre-sale consulting, after-sale service, quality of service, products packaging and packages delivery in 2013, so to provide customers with excellent service and solve the problems from customer service in 2012.
In addition, in the meeting, the board decided to add budgets on Oasap Fashion Hunter Program in 2013 and launch a new cooperation program from January, that is, OASAP In-house Affiliate Program, which will provides 20% commission for all members and is ongoing 2-tiered commission - get 5% commission for every purchase referred by the sub-affiliates.
About Oasap.com
OASAP is a global online store dedicated to high-street fashion by offering various kinds of women's apparel, bags, shoes, jewellery, accessories, beauty products, etc.
OASAP was founded in late 2011, and has already grown to the leader of high fashion online stores. We keep updating products at a high rate every day. Now we update more than 600 new products each week. Those products mentioned definitely belong to the latest fashion trend.
OASAP's mission is to make you close to the planet's most cutting-edge fashion, no matter where you are or what class or age group you are in. Pursuing fashion is the right of every woman.