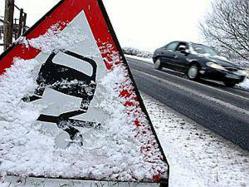 UK businesses get ready for another big freeze.
(PRWEB UK) 17 January 2013
Companies throughout the country are stocking up on de-icing salt as Met Office forecasts more snow and prolonged periods of freezing conditions.
After a very mild and wet start to the winter the need for rock salt or de-icing salt has been a fairly low priority for many homes and businesses.
Many people did not envisage much cold weather let alone any snow this winter, but as this week has shown the UK's weather can change very quickly and now rock salt is flying out of the warehouse doors!
Rock Salt Shop sales director Ben Jackson said, "Customers had held off purchasing rock salt until this cold front arrived and now we are very busy sending out de-icing products on our next day delivery service as businesses across the country start to panic."
Rock Salt Shop supplies homes and businesses throughout the country with bulk and bagged de-icing salt, grit bins, spreaders and many other de-icing products. Rock Salt Shop's customer base is large and varied, from large national companies with 100's of sites to individual home owners who just require a few bags for their driveway, the company offers an unrivalled level of service and quality.
You can buy online form Rock Salt Shop or call the Sales Team on 0844 822 3959.