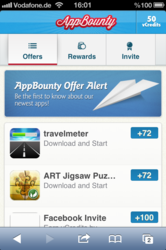 "My experience with AppBounty has been a good one. It's a seamless process that enables you to have fun, play new games and get paid!"
BERLIN (PRWEB) January 16, 2013
Advertile Mobile, a mobile app discovery company, announced today the official launch of AppBounty, a new mobile rewards site that allows users to earn cash rewards for discovering new apps.
AppBounty users are rewarded with virtual currency for each app they download from the site. The credits can be redeemed for real gift cards from premium online retailers such as iTunes and Amazon. Users can also earn credits by inviting their friends to join AppBounty through Facebook and Twitter.
One of AppBounty's major innovations is the ability to give international users the opportunity to redeem iTunes and Amazon gift cards for their respective country. Before AppBounty, mobile rewards users were only able to obtain gift cards for the United States.
Users are able to choose from a variety of applications to try, from popular games to travel search engines and international news apps. All of the apps are free to users and, AppBounty does not require users to keep any unwanted apps on their device.
The blogging community is already showing its interest in the new concept. Matt Bodell, founder of the Apple-related tech blog akufu.com, summarized his first impressions: "My experience with AppBounty has been a good one. It's a seamless process that enables you to have fun, play new games and get paid!"
That certainly seems to be the goal Advertile Mobile is heading for: "We launched AppBounty to connect mobile app developers with users eager to try their games and apps. App developers benefit from a highly-engaged audience of app users while AppBounty users earn cash rewards for discovering new apps - it's a win-win situation" said Jens Disselhoff, CEO of Advertile Mobile.
AppBounty is available for use worldwide and is currently offering country specific gift cards for the United States, United Kingdom, and Germany, with 8 additional countries to be announced in 2013. If you are interested in trying AppBounty, visit http://www.AppBounty.net on an iOS device.
About Advertile Mobile
Advertile Mobile is a Berlin-based app discovery company. The start-up develops several products focusing on connecting app developers with new and engaged users. Advertile Mobile's goal is to listen to its users and make them happy by crafting beautiful and useful products.
Media Contact
Giuseppe Martoriello, Marketing Manager
giuseppe(dot)martoriello(at)advertilemobile(dot)com