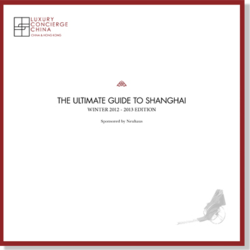 Let us be your Insider Guide to Shanghai!
Shanghai (PRWEB) January 21, 2013
Since its founding in 2006 by 'old China hands' Jonathan Hasson and Spencer Dodington, Luxury Concierge China (http://www.luxuryconciergechina.com) has been China's leading luxury travel provider, pioneering high-end travel and concierge services for discerning travellers needing in-depth local knowledge combined with high service standards.
In partnership with Belgian Master-Chocolatier Neuhas, Luxury Concierge China are now sharing their China luxury travel expertise with the publication of their 'Ultimate City Guides', a unique series of guides to major destinations across China.
Since its establishment six years ago, Luxury Concierge China has enjoyed a unique position in China's travel market, providing bespoke luxury travel solutions to international visitors to the country.
With travel to China expanding rapidly in recent years, founder Jonathan Hasson says Luxury Concierge China has been well-placed to push the envelope of luxury travel in this fast-changing environment. "We're constantly pushing to find new experiences for our guests," says Hasson, "so we've developed both a comprehensive knowledge of what China has to offer and the ability to translate this into great guest experiences."
Now, in cooperation with Belgian Master-Chocolatiers Neuhas, Luxury Concierge China are sharing their expertise in China luxury travel with the publication of their 'Ultimate City Guides' series. Each guide focuses on a major destination: the first edition of the 'Ultimate Guide to Shanghai' is now available for download, and an updated second edition as well as printed editions on Beijing, Hong Kong and other cities will follow soon in 2013.
"At Luxury Concierge China we are all about giving our guests the most exceptional, memorable experiences possible," says Hasson. "At each destination we introduce the highlights with a fresh angle and richer understanding. Then with our in-depth knowledge our guests will also visit places, see and experience things that other visitors do not, whilst enjoying the very best of China's luxury travel and leisure options. Publishing the 'Ultimate City Guides' is our way of making the unique Luxury Concierge China experience more accessible."
In producing the guides the partnership with luxury Belgian chocolatier Neuhas is very important, says Hasson. "They are a great brand with a long history that we are honored to be working with. We share the same core values and their support for this project is a great fit."
The first edition of the 'Ultimate Guide to Shanghai' can be downloaded for free here - (http://www.luxuryconciergechina.com/city-guide.html). The first printed editions of the Shanghai, Beijing and other city guidebooks will be available from early 2013.
Luxury Concierge China provides bespoke luxury travel solutions throughout mainland China & Hong Kong, from buzzing urban centers like Beijing and Shanghai, to tranquil gems off the beaten track. Our private guides are experts in China's history, culture, food and drink, design, shopping, art and antiques and much more, and take pleasure in sharing their expertise while delivering a seamless travel experience. We tailor individualized experiences to the requirements of each guest, ensuring unique and memorable travel for all to this most fascinating of countries.
Belgian Master-Chocolatier Neuhaus has been creating exquisite chocolates for over 155 years. The inventor of the praline, the company combines generations of craftsmanship with the finest ingredients, and its luxurious gift boxes make their creations a pleasure to both give and receive. Neuhaus Master-Chocolatier is internationally renowned, with boutiques in Brussels, London, New York, Tokyo, Shanghai and other cities across the globe. All Neuhas chocolates are made in the company's chocolate ateliers in Brussels, Belgium. Neuhaus is also an official supplier to the Belgian Royal Court.