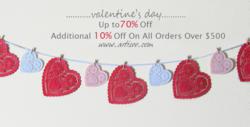 (PRWEB) January 17, 2013
With Valentine's Day falling on the same day each year, consumers are able to plan ahead for the gifts they might like to make, buy and give. Flowers and candy always the dominated gift. However, creative gift is much more surprising. A unique and high-end Valentine's Day gift shows a true expression of love. The popular online gallery, Artisoo.com, is offering a selection of hand painted oil painting reproductions that are perfect for Valentine's Day gifts for their customers.
1. Oil Painting reproduction "The Kiss", Gustav Klimt. Its tender representation of two lovers intertwined into one being, symbolizing the strength of this bond. The opulent and sensuous images in the painting create a sense of decadence which was loved by modern people.
2. Oil painting reproduction "Summer Evening", Edward Hopper. A young man and young woman are standing on a porch talking. Perhaps they are avoiding her parents, or maybe just trying to escape the heat. Behind the white shingle house is a green lawn, faint trees and the blue night sky. The simple scene powerfully recalls the first date between the young, perhaps also an evening in summer.
3. Oil painting reproduction "Dance in the City", Pierre Auguste Renoir. Dance always a popular subject concerning with romance, this painting is no exception. Renoir created this masterpiece in 1883. The stateliness of the ballroom dance is perfectly captured here, with the woman in a formal gown, the man in a formal suite and a dramatic fanning of palms in the background. The light pastel coloring of their skin adds to the dreamy quality of this painting.
4. Oil painting reproduction "Meditative Rose", Salvador Dali. The rose here is floating in space, a blossom without stem suspended over, and completely and utterly dwarfing, a dreary landscape. Two tiny figures are visible on the ground below it, indicating the rose's massive scale. The rose's presence is deliberately. The brilliant red color of the rose makes it even more auspicious in this setting. And the red rose in full blossom on the painting that will never fade represents the forever hot love to one's lover.
5. Oil Painting reproduction "Nude with Calla Lilies", Diego Rivera. The romantic scene that the nude man kneeled on the ground with a bunch of calla lilies seems like a proposal.
6. Oil painting reproduction "Fulfillment (The Embrace)", Gustav Klimt. It is a vintage Victorian Era Symbolism fine art love and romance portrait painting featuring a young couple hugging.
7. Original Chinese painting "Mandarin Duck", Zhang Zhensong. In traditional Chinese culture, Mandarin Ducks are believed to be lifelong couples, unlike other species of ducks. Hence they are regarded as a symbol of conjugal affection and fidelity, and are frequently featured in Chinese art. A Chinese proverb for loving couples uses the Mandarin Duck as a metaphor: "Two mandarin ducks playing in water (pinyin: yuān yāng xì shuǐ). The Mandarin Duck symbol is also used in Chinese weddings because in traditional Chinese lore, they symbolize wedded bliss and fidelity.
8. Custom painting. Valentine's Day would be the happiest moments in one's life. One surely treasures up some romantic photos for his or her lover; Artisoo could turn their memorable photos into a unique oil masterpiece. Imagine being able to take that one special picture and being able to turn it into a canvas wall hanging for a loved one to hang in their home or office. All of these will make the ultimate in the Artisoo gallery unique valentine's gift.
To make shopping for valentine gifts even more fun and affordable, Artisoo is offering all of their artworks at prices shoppers can't afford to pass up. From Monday, Jan. 14 through Thursday, Feb. 14, they will be offering a discount up to 70% off, and an additional discount of 10% off on orders over $500 (Including Chinese paintings, Oil paintings and Custom paintings), just use the coupon code10OFF at checkout.
About Artisoo:
Located in beautiful seaside city, Xiamen, China, Artisoo is one of the leading oil painting on-line companies in the world. It offers Original Chinese paintings, custom paintings and oil painting reproduction masterpieces of all categories, including Abstract oil paintings, Impressionism oil paintings, Still life oil paintings, Landscape oil paintings, Animal, Mediterranean Sea, Oil Painting, etc. All the paintings on Artisoo gallery are hand painted by talented artists at affordable price. For more info, please visit http://www.artisoo.com/