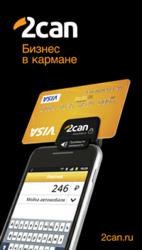 (PRWEB) January 17, 2013
2can is an innovative service developed by Smartfin for accepting payments with Visa and MasterCard bank cards using your smartphone, mobile applications and a small card reader. An organization or a self-employed entrepreneur by using an Android or iOS based smartphone or tablet computer can accept payments with credit cards at any time and in any place. 2can service is focused on e-shops, taxis, notaries, insurance agents, carriers, and all entrepreneurs who for some reasons cannot use the traditional POS-terminals.
Smartfin company, while entering the mobile POS-terminals market for commercial acquiring, has developed its own processing center with due consideration of international security standards. At stage of designing payment services the company's specialists turned to Deiteriy consultants for aid in securing payment transactions and ensuring compliance with necessary regulations.
The requirements of the security standard in payment card industry (PCI DSS) were met in the development of 2can based payment service applications and deployment of its information infrastructure, which helped dramatically speed up the certification process.
The final stage of the project were the certification tests enabling automated vulnerability scanning, manual penetration testing and, specifically, performance of the audit of compliance with PCI DS Standard. The company's information infrastructure and its specialists successfully passed all the necessary verification procedures.
"Once again, we can state that our approach is correct, when our security consultant is involved at an early stage of creating IT solutions, – said Sergey Shustikov, Deiteriy's CEO, – it is much easier to develop a secure system from scratch than to protect a system constructed without proper regard to security requirements at the design stage. I'd like to thank the Smartfin's staff for careful implementation of consultants' recommendations enabling us to build a secure environment for payment card data processing."
Reports prepared by Deiteriy's QSA auditors following the results of certification tests confirm the high level of security of 2can service payment transactions.
"Successful certification according to PCI DSS Level 1 shows the maturity of the company, smooth running of business processes and high professionalism of its employees. 2can service partners and partners can be assured of the system reliability and security" – said Konstantin Yan, Smartfin's CTO .
Press contacts:
Tatyana Musikhina, pr(at)smart-fin.ru
2can (ZAO Smartfin) is a Russian startup created specifically for the development, implementation and operation of the payment service via smartphones. 2can mobile terminal is the Russian equivalent of the U.S. Square service; this is a special application for smartphones (based on iOS and Android platform ) and a card reader, which turns a smartphone into a terminal for accepting Visa and MasterCard payment cards. 2can Service was launched on the Russian market at the end of September 2012 and became the first Russian mobile acquiring service to comply with the relevant security requirements for card payments imposed by Visa and MasterCard international payment systems. In the investment "A" Round Almaz Capital Partners, InVenture Partners and several business angels have participated.
Please find the additional information at: https://2can.ru
_____________________________________________________________________________
Deiteriy company is an information security service provider. It has been granted PCI QSA and PCI PA-QSA statuses. PCI QSA status entitles to perform the certification audit of payment information systems for compliance with the requirements of data security standard for payment cards PCI DSS, while PCI PA-QSA status entitles to perform the certification audit of payment applications. Deiteriy auditor's opinions are recognized by international payments systems such as Visa, MasterCard, American Express, Discover and JCB.
Please find the additional information at: http://ru.deiteriy.com/