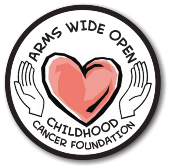 "It is a night that all are reminded of how precious life is, where people are inspired to make a difference and celebrate life," said Sherwood
Staten Island, NY (PRWEB) January 17, 2013
The Arms Wide Open Childhood Cancer Foundation will host its 4th annual Give Thanks for Life gala at the Nicotra Ballroom in the Hilton Garden Inn, Staten Island on Friday, February 1, 2013.
The evening, which celebrates the lives of children who are battling cancer and in memory of those who have lost their fight, will begin at 7:30PM with a cocktail hour followed by a reception at 8:30PM.
A $65,000 check will be presented to the Neuroblastoma team of Memorial Sloan Kettering Cancer Center in New York City. This grant will be used to support a clinical trial for children suffering from neuroblastoma, which is a rare form of pediatric cancer.
AWOCCF will also be premiering its pediatric cancer awareness documentary, The Truth 365. The documentary, which premiered via a soft launch on YouTube just 4 weeks ago, has received well over sixty thousand views on YouTube. Additionally, the evening will honor incredible individuals who have continued strong on their mission to raise awareness for childhood cancer. The honorees include:

Dr. John Maris – Award of Excellence
Melinda Marchiano – Pediatric Cancer Survivor - Hope Award
Annie Bartosz – Special Sibling Award of Courage
Lauren Grace Green – Junior Fundraiser of the Year Award
Vincent Aiello – Humanitarian Award
Courtney Hall – Community Leadership Award
Barbara Zobian – The "Live Like Nick Did" Award
"Give Thanks for Life is one of my favorite nights of the year," said Dena Sherwood, founder of AWOCCF. "It is so meaningful to our family and friends. The gala marks another year that we've been blessed to have spent with our son, a cancer survivor. It is a night that all are reminded of how precious life is, where people are inspired to make a difference and celebrate life. We are blessed to have loyal supporters who have the hugest hearts for kids with cancer and with whom we could not continue without" added Sherwood.
For tickets and additional information on Arms Wide Open Childhood Cancer Foundation, please visit http://www.AWOCCF.org
About Arms Wide Open Childhood Cancer Foundation
On July 6, 2008, the lives of Dena and Billy Sherwood changed forever when their then 13-month-old son, Billy Jr., was diagnosed with Neuroblastoma, a very aggressive cancer of the sympathetic nervous system that most commonly occurs in infants and children under the age of five. In August of 2009, in the midst of their son's aggressive treatment, Dena and Billy founded Arms Wide Open Childhood Cancer Foundation.
Arms Wide Open Childhood Cancer Foundation is working closely with scientists, researchers and doctors; who are pioneers in the pediatric cancer field, who are on the forefront of bringing many alternative therapies into clinic which could prolong the lives of children diagnosed with Neuroblastoma until a cure is funded. Right now only 30% of children diagnosed with High Risk Neuroblastoma will survive, but because it is an "orphan" cancer, research funding is limited as pharmaceutical companies do not see the efforts as profitable. Recognizing that children should not be viewed as a profit, but, rather, our investment, Arms Wide Open raises money for alternative therapies and actual treatments these children so desperately need in order to survive