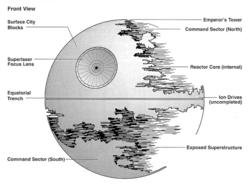 I think that the White House is just making poor excuses. So what if building the Death Star will end up blowing up a few planets here and there—there are thousands of planets in our far far away galaxy alone. I don't think we'll miss them much
Washington, DC (PRWEB) January 16, 2013
Human Alliance Ltd, one of Washington, DC's top Management Consultants specializing in HR issues and built on the foundations of The Force, reports that the recent negative response by the White House to a petition by patriotic Americans is wrong. Commencement of the Death Star project is necessary and will stimulate the economy, regardless of tiny teeny flaws.
In a recent petition signed by almost 35,000 caring, loving, and patriotic Americans to convince the US government to build a Death Star, the White House responded in denial, listing costs, design flaws, and a leftist agenda as the reason for rejecting the monumental project.
See the White House response here: https://petitions.whitehouse.gov//response/isnt-petition-response-youre-looking
"I think that the White House is just making poor excuses. So what if building the Death Star will end up blowing up a few planets here and there—there are thousands of planets in our far far away galaxy alone. I don't think we'll miss them much. Also, $850 quintillion ($850,000,000,000,000,000) is a small price to pay to stimulate job growth and the economy. Ask any enlightened HR professional they'll tell you that it's always about the 'people,'' explains Joe Shaheen, one of Washington, DC's top Management Consultants and a possible descendent of both Jedi and Sithian origins, a rare Force Sensitive.
The response goes on to argue that the Death Star designs are flawed in the first place because they would allow a one man wing fighter to exploit a weakness that would destroy the entire moon-sized station. Supporters of the project argue otherwise, since there have been no recent discoveries of pilots who are able to wield The Force well enough to exploit that weakness.
"The important thing here is to look at the positive side of things. The US economy needs jobs, and in this country's history, whenever we've gone through tough times, it was grand public works projects that created jobs and kept workers off the streets. We estimate that this project would likely take about 10 Billion engineers, technicians, builders, and other professionals to complete the project—enough for 2 lifetimes of work for the entire planet. It would certainly solve the global economic crisis," explains Shaheen, as he tests his newly built light saber on endless HR forms that are completely unnecessary to create an effective HR function.
Of course, with existing budget concerns, the US economy would not be much worse than it currently is, the Human Alliance Ltd. holds as its official position.
The company is not scheduled to release any report or analysis on the subject.
The Human Alliance is currently conducting a survey to gauge the progress of the HR industry. If you're interested in participating please click the link below.
The online survey is located at http://humanalliance.com/state-of-hr-survey-2013/
About the Human Alliance Ltd.
The Human Alliance Ltd. is a world class Management consulting firm that focuses on issues of talent and challenges facing today's workforce. The company fields an array of innovative services, such as Human Domain Mapping, Talent Sphere Mapping, Quantum Org, On Demand Reporting Services, and traditional talent services, such as talent management, and talent acquisition consulting.