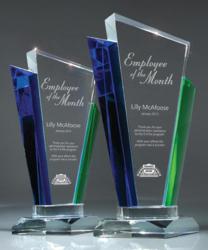 Fort Lauderdale, Fla. (PRWEB) January 16, 2013
Trophy and awards manufacturer EDCO Awards & Specialties of Fort Lauderdale, Fla., has unveiled a number of new crystal awards just in time for the 2013 corporate awards buying season.
Prominent among this year's designs are crystal awards with dynamic designs or added color, according to EDCO vice president Mike Szczesny. "We've filled out our product lines with new crystal awards that feature interesting new shapes or movement as well several optic awards that combine optical glass, crystal, black glass and colored glass," he said.
Among the company's contemporary crystal awards line, EDCO has added designs that update traditional glass designs with more vibrant colors like blue and red. The company expects several of its new designs to become very popular corporate awards, especially the Crystal Distinction Award, Omni Globe Award and Rising Diamond Award, Szczesny said.
"Our new Crystal Distinction Award is an amazing value," he said. "It's all optic crystal with two colored crystals in blue and jade, and high-quality engraving using sand blasting."
The Omni Globe Award combines a finely etched solid optic crystal globe that spins freely within an antique-finished metal axis. The globe and axis are elevated by an engraved tapered base made of solid optic crystal.
The Rising Diamond Award features a black crystal obelisk stand that cradles a clear diamond-shaped optic crystal. The stand engraving is deeply etched and filled with a silver paint.
"These three awards stand out as being some of the most innovative among the 24 new designs we've unveiled this year in our Contemporary Crystal, Optic Crystal, Crystal World Global and Specialty Crystal Award categories," Szczesny said.
While developing its new product lineup, EDCO decided to expand its awards inventory in a way that would accommodate any company's budget.
"We added pieces at every price point, from as low as $30 to as high as $350," Szczesny said. "We have corporate awards available across the full spectrum to give customers choices for every budget and type of event."
The full lineup of EDCO's new crystal awards can be viewed at their website.
For more information, contact EDCO at 800-377-8646.