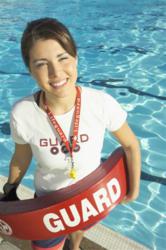 An entrepreneurial veteran could be in business for themselves in 12 months or less working in the aquatic industry
Presscott, AZ (PRWEB) January 22, 2013
Seasonal employment for veterans, plus career and business opportunities are readily available in the aquatics and recreation industry.
The aquatic industry has numerous vertical markets to find employment. Municipalities hire seasonally or year-round based on their geographic region of the country. Some of these opportunities would be beach and lakefront lifeguards, municipal pool lifeguards, waterpark managers and aquatic directors. Non-profits such as YMCA's, JCC's and Boys and Girls Clubs also have numerous ongoing aquatic job opportunities.
Other vertical markets always hiring for aquatic positions are: colleges and universities, health clubs, aquatic centers, senior living facilities, master planned communities, hotels/resorts, destination spas, cruise ships and private golf clubs.
How does a veteran enter into the aquatic industry? First and foremost, one must be in good physical condition, love to swim and enjoy working with people. The great news is, for most aquatic jobs, candidates do not need a degree to be successful. A variety of certifications will suffice. The more certifications and experience one has, the more opportunities.
The American Red Cross is the place to begin for getting a lifeguard certification. By going to their website you will find numerous certifications to begin building a career in the aquatic industry. Throughout the country (Often seasonally) there are a variety of organizations that host and certify lifeguards for the American Red Cross.
After getting certified as a lifeguard, veterans may consider becoming a Red Cross Training Instructor. This could become a great first step to building an aquatic business. An independent contractor/sole proprietor could contract with many of the vertical markets listed above to certify lifeguards and earn an equitable profit margin. Alan Cohen, founder and president of The Career Collection says "An entrepreneurial veteran could be in business for themselves in 12 months or less working in the aquatic industry".
An emerging market for the aquatic industry is teaching group water aerobics classes. This low-impact exercise is very popular with seniors as well as being an important part of physical therapy for certain injuries or rehab from surgery. This can be done as an independent contractor or as a payroll employee. To gain additional certifications as an aquatic instructor, veterans would want to obtain additional certifications. Aquatic certifying organizations such as the Aquatic Exercise Association offer numerous certifications for aquatic instructors.
Like most careers, one begins as an employee, but after gaining valuable experience can quickly transition into their own business. There are an infinite amount of possibilities to pursue in the aquatics and recreation industry.
For additional information on jobs in the aquatic industry visit AquaticsCareers.com. Employers who mention "Veterans Encouraged to Apply" in their job postings will receive a 25% refund by calling 800-259-4397.
About The Career Collection™:
FitnessJobs.com was started by Alan Cohen in 1998 as the first site available to job seekers and employers specializing in the health, fitness, recreation and leisure industries. Over the years it grew to be a related 'collection' of websites that now encompass six integrated job boards: AquaticsCareers.com, FitnessJobs.com, NutriJobs.com, ParkandRecreationJobs.com, SpaandSalonJobs.com and YogaJobs.com. Its model as a recruiting resource for employers and job seekers is designed to be comprehensive, easy to use, cost-efficient and fast. Personalized advice is available to all job seekers and employers to ensure their success.
Contact:
Alan Cohen, President
The Career Collection 800-259-4397 http://www.CareerCollection.com
###