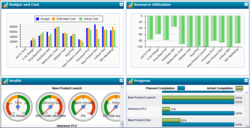 ZilicusPM equips project managers to deal with uncertainties in delivering projects. It offers robust solution for small & medium enterprises to manage entire project lifecycle including budget, cost & billing" said Dhan, co-founder, Zilicus
Houston, TX (PRWEB) January 17, 2013
Zilicus Solutions, a leading provider of online project management software, announced launch of its latest version - ZilicusPM 6.0. ZilicusPM 6.0 helps project managers to effectively manage project financials using its budget, cost, expense and billing management solution.
Need of project monitoring & control system
To accurately predict when and how complex project will be completed and delivered, needs project tracking and control mechanism. Many organizations fail to understand importance of project monitoring and control system. Projects can face setback, they get derailed because of various reasons e.g. risks, incidents, ambitious deadlines. ZilicusPM is highly dependable software that empowers project team to monitor project health using Gantt chart, online risk management software, issue tracking software. In its latest offering, ZilicusPM has introduced project financials management software to precisely monitor and control project cost against allocated budget and simultaneously tracking project revenue.
Some of the features introduced in the latest version of ZilicusPM are as follows
Project Budget and Billing Management
A significant number of projects fail because of delay in delivery and in turn leads to cost over-run. ZilicusPM highlights whenever project costs overshoot allocated budget. Using ZilicusPM, user can set budget in its own currency; indicate billing preference such as 'Fixed Price', 'At actual resource cost' etc. Dashboard clearly shows real time financial health of an individual project as well as a portfolio of projects.
Project Cost Estimation and Tracking
Uncertainty in project schedule can take a toll on progress and health of projects. Project manager can shield such uncertainty using ZilicusPM by creating detailed work-breakdown-structure & schedule and a realistic estimation of time and cost. Using ZilicusPM, project manager can specify

Project resource cost rate, billing rate in its own currency
Cost estimate (fixed, resource and other) at any task and sub-task level
As project progresses, project manager can track and compare estimated costs like resource cost, fixed cost and actual cost versus respective type of actual cost. The same comparison is available at project level with aggregate numbers. ZilicusPM provides a separate view and a report for project manager to track actual versus estimated costs.
Project Expenses Tracking and Approval
Using ZilicusPM, project expenses can be tracked at a task/sub-task level. ZilicusPM offers detailed expenses tracking and management solution so that no expense item is lost or remains untraceable. When team members submits project expense sheets, ZilicusPM highlight those for project manager's approval. Project manager can review and edit expense sheet before he/she approves or reject it.
The expense tracking solution in ZilicusPM lets user specify detailed information pertaining to expenses they have incurred e.g. tasks, date, expense category, amount, billability, reimbursement and expense receipt, etc.
Team member and project managers can view various expense reports. Like project risks, project issues and tasks, ZilicusPM maintains audit log for expense approval history.
ZilicusPM 6.0 includes many other features and enhancements, some of these features are
1. Set preference to receive email when new discussion starts or new comment added to it
2. Customize expense categories – add new categories or change existing ones
3. Similar to expense approval mechanism, ZilicusPM has enhanced timesheet submission and approval mechanism.
Future Path
Trusted by users in more than fifty five countries, ZilicusPM has emerged as the top-most choice for project and program managers for its complete features and incredible performance. Customers have highly appreciated ZilicusPM for simplifying project management processes. Integrated with Google Apps, it is highly adopted by companies in healthcare, IT, engineering, manufacturing, education,media and marketing industry.
This award winning project management software will be launching next version ZilicusPM 6.1 in February 2013 thereby addressing pain points experienced by project management professionals in manufacturing, engineering, information technology and with many other industries.
Zilicus Solutions has been strengthening its partnership program by signing up agreement with affiliates, resellers, VARs and marketplaces (including Google Apps Marketplace) primarily in US, Latin America, Europe and Australia.
About Zilicus Solutions
Zilicus Solutions is a technology company that offers cloud based project collaboration software. It offers award winning online project management software ZilicusPM – delivers on the promise of collaborative planning to improve team performance. By actively involving employees with ZilicusPM and realizing gains in productivity, companies can meet strategic & organizational objectives. To sign up for 30-day free trial, view product information, or take a product tour please visit http://www.zilicus.com/.