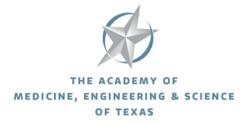 Austin, TX (PRWEB) January 17, 2013
The Academy of Medicine, Engineering & Science of Texas (TAMEST) will hold its 10th Annual Conference—Probing the Depths: under the Sea and into the Brain—on January 17-18, 2013, at the Westin Galleria Hotel in Dallas. The conference program will focus on the latest research developments in neuroscience and deepwater exploration.
The program includes keynote addresses by Robert Haddad, Ph.D., chief of the Assessment and Restoration Division at the NOAA Office of Response & Restoration, and Huda Y. Zoghbi, M.D., professor at Baylor College of Medicine and investigator at Howard Hughes Medical Institute. Other featured speakers include Roger Hine, co-founder and chief technology officer of Liquid Robotics, Inc., and Tom Luce, chairman of the board of the National Math and Science Initiative.
Conference sessions will feature presentations on deepwater energy exploration, deepwater research and technology, neurodevelopmental disorders and autism, and the genomics of cancer, among other topics.
The conference will also include a dinner honoring the recipients of the 2013 Edith and Peter O'Donnell Awards, which recognize rising Texas researchers who are addressing the essential role that science and technology play in society, and whose work meets the highest standards of exemplary professional performance, creativity, and resourcefulness.
"With continuing high demand for energy worldwide, companies are intensifying their exploration and production in the gulf which increases the possibility of accidents associated with deepwater drilling," said Robert Haddad, Ph.D., division chief, NOAA's Office of Response & Restoration. "The TAMEST conference presents an opportunity to present and discuss some of the early results of the Natural Resource Damage Assessment being conducted under OPA-90, the regulatory framework being used to identify and quantify impacts to the Gulf of Mexico ecosystem caused by the Deepwater Horizon oil spill, and guide the development of a comprehensive restoration plan."
For further information about the TAMEST 2013 Annual Conference please visit http://www.tamest.org/events/annual.html.
About TAMEST
The Academy of Medicine, Engineering & Science of Texas (TAMEST) was founded in 2004 to provide broader recognition of the state's top achievers in medicine, engineering, and science, and to build a stronger identity for Texas as an important destination and center of achievement in these fields. Members include Texas' 10 Nobel laureates and 250+ National Academies members. TAMEST brings the state's top scientific, academic, and corporate minds together to further position Texas as a national research leader. TAMEST also hopes to foster the next generation of scientists and to increase the awareness and communication among the state's best and brightest about research priorities for the future.