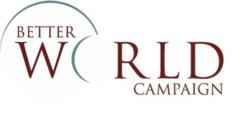 Washington, DC (PRWEB) January 16, 2013
A poll conducted during the current record-setting flu season and released today by the Better World Campaign reveals strong bipartisan support for the World Health Organization (WHO).
Sixty-one percent of voters express a favorable opinion of the WHO, and 92 percent say that it is important for the United States to both provide funds and be part of the decision‐making process for the WHO, which works to protect against threats to global health and prevent disease outbreaks around the world. The figures are in keeping with findings of an April 2012 poll, in which 93 percent of Americans said it is important that the U.S. be a WHO member, indicating consistent U.S. support for the United Nations' coordinating health agency.
With regards to U.S. spending on international assistance to help people in poor and developing countries improve their health situation, a plurality of voters—45 percent—support keeping the level of U.S. spending the same, 22 percent support an increase in this spending, and 27 percent support a decrease in this spending.
The poll was conducted January 6-9 by the bipartisan research team of Public Opinion Strategies and Hart Research Associates. It surveyed 900 registered voters (630 landline/ 270 cell) with a margin of error of ± 3.27 percent.
Presently, all global health funding faces potential cutbacks, with major budget cuts on the horizon due to sequestration and other fiscal pressures. Additionally, U.S. funding for the WHO may be further endangered in the spring. Because of a legal requirement to cut U.S. funds to any UN agency that recognizes a Palestinian state, an expected bid for Palestinian membership at this May's World Health Assembly in Geneva could trigger a devastating automatic shutdown. While the Obama Administration has no flexibility to waive the law, Congress has the power to grant the President waiver authority.
"During one of the worst flu seasons in recent memory, we're acutely aware of how quickly a virus can become a pandemic," said Peter Yeo, Executive Director of the Better World Campaign. "Continued U.S. engagement in the WHO is essential to preventing the global spread of disease—including diseases that could otherwise threaten our communities—to say nothing of finally eradicating deadly diseases like polio and measles."
Added Yeo, "At a time when our nation is divided on many issues, the fact that nine in 10 voters support U.S. engagement in the WHO should be a mandate to Congress. When it comes to global health, Americans believe the United States can and should play a leading role through the WHO."
For a memo detailing the full results of the polling, click here.
###
About the Better World Campaign
The Better World Campaign (BWC), an initiative of the Better World Fund, works to strengthen the relationship between the United States and the United Nations. It encourages U.S. leadership to enhance the UN's ability to carry out its invaluable international work on behalf of peace, progress, freedom, and justice. For more information, visit http://www.betterworldcampaign.org