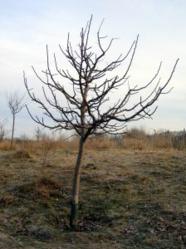 Winter is the best time to assess trees... the fall of leaves allows the structure and silhouette of the tree to be seen clearly
(PRWEB UK) 21 January 2013
Winter is an important time for gardeners and plant enthusiasts. Even though there is minimal obvious plant growth it is an ideal time to assess the garden and plan any restructuring and maintenance. In light of this East Sussex-based supplier of trees, plants and shrubs, English Woodlands, announced today their advice for pruning trees in winter.
Part of garden maintenance is pruning and is done for a variety of reasons. Most trees will have been formatively pruned in the nursery to ensure a good start for a specimen plant. Different species of plants have different pruning requirements, some benefit best from no pruning at all, for example ornamental cherries and birches. Timing of pruning is important for flowering trees and shrubs; pruning at the wrong time of year can result in loss of flowers or fruit.
Pruning out diseased or damaged branches is always recommended and the winter is the best time to assess deciduous trees for this purpose: the fall of leaves allows the structure and silhouette of the tree to be seen clearly. Hedges, topiary and climbers require pruning to restrict the area of growth to the size required. Some fruit trees require pruning to maximise fruit production.
A Customer Service Representative from English Woodlands commented "We think winter has plenty of advantages for pruning. Deciduous trees are defoliated so it is easier to see any structural problems or disease. Aside from that, it's the ideal time to get in the garden and work off that Christmas pudding. There are dozens of outdoor activities to occupy people in the spring and summer, some light pruning and garden work is a great reason to get outside and active in the winter."
English Woodlands recommend gardeners to do their own research before undertaking pruning programmes as different varieties have different requirements. Different fruit trees require different pruning regimes. Apple and pear trees respond well to pruning to achieve a good shape - ideally a goblet shape that allows air flow around the fruit, reducing diseases like powdery mildew and an open centre which makes harvesting easier. Pruning longer branches on some varieties can stimulate the side branches that produce fruit. Plum trees should only be pruned on a dry day in the summer to avoid a disease called 'silver leaf' which is spread by water splash. Unless training cherry trees along a wall or fence trees they will be best left with minimal pruning after purchase to avoid pruning wounds that may become disease entry points.
English Woodlands are a supplier of trees, plants and shrubs supplier based in Heathfield, East Sussex. They have been providing amateur and professional gardeners with advice and products since 1919, and plan to see their service extend and improve even further in the foreseeable future.