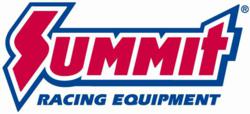 Tallmadge, OH (PRWEB) January 16, 2013
Each ATK engine is hand assembled by professional builders. Each core engine is completely disassembled and cleaned via baking, blasting, and washing. The block, cylinder head, crankshaft, and connecting rods are remachined to conform to the original manufacturer's specifications. Engines are reassembled using new pistons, rings, bearings, timing components, oil pump, and gaskets. Finally, the engine is tested again under its own power to verify compression, oil flow, and pressure.
ATK High Performance Engines balances and blueprints each engine, holding tolerances to within .0002 inch and 2 grams of their rigid specifications. Best of all, ATK dyno-tests every complete engine and provides a dyno sheet, and most engines are backed by a two-year limited warranty.
Summit Racing carries a large selection of ATK High Performance Engines. Many long block and fully dressed engines are available with a choice of cylinder heads and camshaft grinds. All engines and short blocks are also available in various stroker combinations.
Stage 1 and Stage 2 Long Block Crate Engines

Small block Chevy 350 and 383
Big block Chevy including stroker combinations up to 598 C.I.D.
Small block Ford, 351W, and 460
Small block Chrysler and big block 440
AMC/Jeep 4.7L C.I.D. inline six-cylinder
Stage 3 Fully Dressed Crate Engines (with Induction and Ignition Systems)

Small block Chevy 350 and 383
Big block Chevy including stroker combinations up to 598 C.I.D.
Small block Ford, 351W, and 460
Small block Chrysler
Short Blocks

Small and big block Chevy
Small and big block Ford
Small block Chrysler
CRATE ENGINE LINK: http://www.summitracing.com/search/part-type/crate-engines?keyword=ATK%20Engines
SHORT BLOCK LINK: http://www.summitracing.com/search/part-type/short-block-engines?keyword=ATK%20Engines
Summit Racing Equipment
http://www.SummitRacing.com
1-800-230-3030