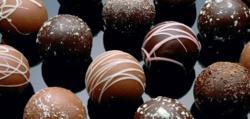 Many people are surprise to learn that chocolate has its origins right here in Belize, where the ancient Maya first cultivated cacao to create what they called Xocoatl or the 'Food of the Gods'.
(PRWEB) January 16, 2013
Belize's The Lodge at Chaa Creek is offering lovers everywhere the opportunity to put some exotic adventure in their lives while being immersed - literally - in the one of the ancient Maya's greatest gifts to the world; chocolate.
Bryony Fleming-Bradley, who coordinates Chaa Creek's adventure romance tours and all-inclusive Belize vacation packages, said that she and her staff are putting a special emphasis on chocolate throughout the month of February as a tribute to lovers and Belize's ancient Maya forbearers.
"Many people are surprise to learn that chocolate has its origins right here in Belize, where the ancient Maya first cultivated cacao to create what they called Xocoatl or the 'Food of the Gods'. Since chocolate has always been linked to romance and was even considered to be an aphrodisiac, it has also been called the 'Food of Love', and that will be our emphasis during February and especially around Valentine's Day, which is celebrated very enthusiastically here in Belize," she said.
Cacao has always held a special place in Maya culture and was cultivated and traded throughout Central America long before the birth of Christ. When the Spanish Conquistadors arrived in the 16th century AD they became enamoured with the hot, foamy beverage known as Xocoatl, which was served to them by Maya royalty. When Cortez noticed in 1519 that the Aztec ruler Montezuma drank several goblets of the drink before entering his harem, he assumed that it was an aphrodisiac, and chocolate's reputation as a lovers' treat was firmly established in popular imagination.
Today, chocolate is still an important part of Maya culture and day to day life, drank in the mornings hot and spiced with chili just as it has been for thousands of years. Ms Fleming-Bradley said chocolate is also important at Chaa Creek, where it is offered in many different forms. "Our guests can sample chocolate in its original form as well as its many different incarnations. For example, we serve chocolate-themed drinks in our Jungle Lounge, scrumptious chocolate desserts in our restaurant, and even have chocolate body wraps and massages at our hilltop spa," she explained.
Ms Fleming-Bradley said that February will see a special emphasis on Chaa Creek's "Chocolatissimo" spa treatments such as a Maya Chocolate Polish, Lovers Peppermint Chocolate Pedicure, Cocoa Massage or a Chocolate Fondue Wrap , which she said are "all designed to enhance beauty while heightening a sense of wellbeing and, as some happy guests report – love.
"Anyone who loves eating chocolate can imagine what happens when the essences and active ingredients of pure, local organic cacao is absorbed through the skin. It's just amazing," she added.
Ms Fleming-Bradley said that chocolate is known to stimulate a chemical reaction in the brain that produces a feeling similar to that of falling in love. "In addition to this exhilarating sensory experience, chocolate's 300 different compounds have a positive impact on health, beauty and wellbeing. Theobromine, a substance similar to caffeine, can have a slimming effect, while magnesium, potassium and calcium calm the body and help reduce stress. It's also been said that chocolate's antioxidants thwart the effects of free radicals responsible for cell aging.
"But regardless of what science says, we see the positive effects of our chocolate treatments on couples every day. After a few of days of relaxing, consuming chocolates and spending some quality time together surrounded by beautiful tropical flowers and our native birds, and then enjoying one of our chocolate spa treatments, they're almost walking on air," she said.
Ms Fleming-Bradley encouraged couples to mention that they are on a romantic getaway when booking at Chaa Creek. "Once we're alerted that couples are here on a romantic adventure, we'll pull out all stops to ensure that have the romantic experience of a lifetime. We look after all the details so lovers can concentrate on the real reason for getting away – each other," she said.