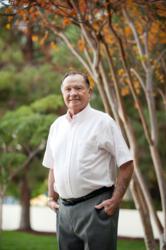 "To treat a patient with TN, the Novalis Tx precisely focuses radiation beams along a segment of the trigeminal nerve to interrupt pain-causing fibers," said Dr. Coleman.
San Diego, CA (PRWEB) January 17, 2013
Though primarily used to treat benign and malignant tumors, stereotactic radiosurgery is now being used to treat additional medical conditions including a rare nerve disorder, trigeminal neuralgia (TN).
Excruciating facial pain triggered by everyday activities such as chewing, talking or swallowing characterizes the rare disease. TN can often be mistaken for a dental problem, since the disorder usually causes sharp pain in the jaw. Diagnosis sometimes takes several years, as patients may undergo root canals or tooth extractions in an attempt to relieve their pain.
San Diego Radiosurgery patient Fred Gardner shares his story:
"My jaw started bothering me one day. It would hurt for a period and then return every few months. It felt a lot like a toothache," Gardner said.
The disorder can occur when a blood vessel compresses the fifth cranial nerve, one of the largest nerves in the head. Many times, no cause can be found. As the pain intensifies, patients find themselves unable to predict what may trigger the next episode.
"A year ago, the pain became so great that I couldn't even touch the right side of my face, even though I was taking pain medication every four hours," said Gardner. "It was the worst pain I've had in my entire life."
Only when the discomfort persists do many patients seek additional treatment. TN is usually diagnosed based on a patient's description of symptoms. Treatment typically involves powerful painkilling drugs or other antidepressant or anticonvulsive medication. Gardner's dentist eventually referred him to San Diego Radiosurgery after the pain became intolerable.
Dr. Lori Coleman, medical director of radiation oncology at Palomar Health, treated Gardner's TN similar to how the center's physician team approaches certain cancers. Using Novalis Tx technology, Dr. Coleman performed stereotactic radiosurgery, a noninvasive method of treating certain types of tumors and conditions like TN with high-dose radiation beams delivered in five or fewer procedures.
"To treat a patient with TN, the Novalis Tx precisely focuses radiation beams along a segment of the trigeminal nerve to interrupt pain-causing fibers," said Dr. Coleman. "The pinpoint accuracy of the procedure spares healthy tissue and allows us to treat difficult-to-reach targets without surgery or sedation."
Immediately after his first treatment session, Gardner was relieved of a nearly decade-long battle with TN.
"I was able to start eating food I hadn't eaten in three years," Gardner said. "The next day I ate about three bags of Tootsie Rolls."
TN treatment is typically a one-time, outpatient procedure and is completed within an hour. Though TN does not have a cure, pain can be reduced or eliminated in about 65 to 85 percent of patients who are treated with stereotactic radiosurgery.
In addition to trigeminal neuralgia, San Diego Radiosurgery treats cancerous and noncancerous tumors in many parts of the body, including the prostate, lung, brain, spine, liver, pancreas, kidney, adrenal gland, bone and orbit of the eye. The center also treats blood vessel abnormalities such as arteriovenous malformations.
To find out if you or a loved one may be a candidate for trigeminal neuralgia treatment with Novalis Tx, request more information. San Diego Radiosurgery is a service of Palomar Health Downtown Campus and is located at 555 East Valley Parkway in Escondido, Calif. For more information, call (760) 739-3835.