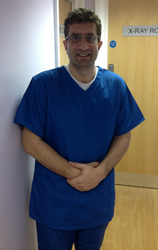 I believe in developing every member of the dental team to their full potential and for dental education and CPD to be seen in the context of a process of lifelong learning and improvement
(PRWEB) January 18, 2013
Tariq Drabu, leading Manchester dentist and specialist oral surgery provider has today come forward welcoming a consultation by the General Dental Council (GDC) around the issue of changes to the system of continuing professional development (CPD) for dental registrants and urging all dental professionals to participate in giving their views.
Tariq Drabu was speaking in response to the consultation request from the GDC for views and opinions from dental professionals regarding CPD which is on its website. The GDC is seeking the views of dental professionals before 31.01.13
Explaining he background Tariq Drabu said "Currently GDC dentist registrants must undertake a minimum of 250 hours of CPD including 75 hours verifiable CPD and GDC Dental Care Professional registrants must undertake a minimum of 150 hours including 50 hours verifiable, during a five-year cycle. I personally have just completed and submitted my 5 year log of CPD from the start of 2008 to end of 2012. The recording of CPD is done in several waves so that different groups of registrants record at different times. It is a legal requirement to submit details about CPD. Failing to comply could mean that you lose your registration and rights to practise."
Tariq Drabu continued "In July 2011 the GDC launched a thorough review of current requirements for registrants to undertake CPD. The purpose of the review was to try and bring forward a model of mandatory CPD for the future that was seen to be fit for the GDC's on-going regulatory purposes. It was felt that it must also meet any future requirements for the assurance of continuing fitness to practise of registrants, which are expected to be delivered through a scheme of revalidation, somewhat akin to the medical model. However if you read the dental press you will see that the GDC is seen in a very poor light by the majority of dentists who are at best suspicious of its motives and actions. It has also been recently criticised by the healthcare watchdog the CHRE."
Tariq Drabu went on to say "Notwithstanding the persistent and repeated shortcomings at the GDC, I support and would urge every member of the dental community to step forward and contribute their opinions regarding future CPD. These potential changes represent major and fundamental changes. They are looking at the fact that all registrants must identify their CPD needs by means of a personal development plan. They could then evaluate their learning and development needs, and undertake the relevant CPD educational activity. Following the CPD activity, the registrant would reflect on its impact by thinking about how it has and will enable them to maintain and develop their skills, knowledge and behaviours. The registrant would then record what they did, briefly documenting the impact and benefits in relation to meeting GDC professional standards. Future developments will include revalidation and CPD will tie in to this. Revalidation and strong evidence based CPD are one of the ways forward to ensure patient safety."
Here at Langley Dental Practice all our staff have relevant appraisals and personal development plans and have been doing so for many years. These plans tie in with the short, medium and long term aims of the practice. I am a passionate believer in the dental profession having a voice in its own future affairs and will be contributing to the consultation and would encourage all dental professionals to do the same."
Tariq Drabu concluded by saying "I believe in developing every member of the dental team to their full potential and for dental education and CPD to be seen in the context of a process of lifelong learning and improvement. Apathy and disinterest are not options. The consultation closes on 31 January 2013 and I would encourage every interested member of the dental community to contribute their opinions and take our profession forward into the 21st century."