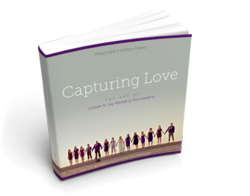 What works for John and Barbara won't necessarily work for Matthew and Rick, let alone Jill and Louise.
Washington, DC (PRWEB) January 16, 2013
With same-sex marriage now legal in nine states and the District of Columbia, same-sex unions are more commonplace and more visible than ever before. Gone are the days of engaged couples of the same sex booking wedding professionals purely on the criteria of whether or not they are gay-friendly. With the average wedding photographer costing around $2,300 USD (out of a $27,000 average total, according to a 2012 survey from TheKnot.com), same-sex couples are looking for professionals who can provide a level of service, understanding and authenticity worthy of their investment. But when it comes to wedding and engagement portraits, what works for heterosexual couples may not work for same-sex couples. Enter Capturing Love, a groundbreaking new visual guide by veteran wedding photographer Thea Dodds of Authentic Eye Photography, and wedding innovator Kathryn Hamm of GayWeddings.com. The new book will be released in a limited run via Lulu Press on January 16, 2013 from Authentic Weddings, with a full release to follow in March. The book is available for purchase for $32.95 USD, from Lulu.com.
Capturing Love features stunning example photographs from thirty-eight of the top gay and lesbian wedding photographers, showcasing forty-six same-sex couples. Through these examples - offering both unconventional wedding portraits and new twists on conventional wedding imagery - and through detailed commentary from the authors, the book provides needed support to wedding photographers who must revisit the rules of traditional wedding and engagement portrait posing to better serve all couples in today's diverse wedding market.
Said Hamm: "What works for John and Barbara won't necessarily work for Matthew and Rick, let alone Jill and Louise. In choosing photographs to include in Capturing Love, we asked three simple but important questions: Are these images authentic? Do these images reflect intimacy? Are these images believable? For any couple – straight or gay -- an engagement or wedding portrait should elicit a 'yes' to all three questions. That combination of authenticity, intimacy, and believability will be different for every couple, and the wide range of photos of same-sex couples in Capturing Love illustrates just how diverse wedding portraiture can, and should, be."
Said Dodds: "Weddings are changing, and photography education needs to change too. For wedding photographers, it can be a challenge to pose and set up a wedding portrait in a way that truly reflects the uniqueness of each couple, especially when they've been trained to use a certain set of poses that were designed for a man and a woman. We hope Capturing Love inspires every photographer shooting a same-sex wedding to think outside the box, and to create photos that truly capture the one-of-a-kind magic present at each couple's wedding day."
Among the couples featured in Capturing Love:

A groom in Orlando who made the dresses for the female attendants, and made the tuxes for himself and his partner for the wedding (Photo credit: Brian Pepper & Associates).
The two brides featured on the cover of the book who are actively involved in the Chicago theater scene and LGBT equality movement, respectively. One bartends at the Briar Street Theatre, home to the Blue Man Group, and another serves on the Illinois Board of Governors for the Human Rights Campaign. (Photo credit: It's Bliss Photography)
Two grooms whose photo was distorted and used without consent by an anti-gay group that sent out a direct mail campaign opposing same-sex marriage. They have sued, and are working with the Southern Poverty Law Center against the group in question. (Photo credit: Kristina Hill Photography)
The grooms whose reception featured live performances by some of Chicago's hottest theatrical performers (Photo credit: Arielle Doneson)
More information about Capturing Love, including a complete list of contributing photographers and ordering information, is available at http://www.capturingloveguide.com.
Dodds and Hamm will be making several appearances in the coming weeks and months to promote the book, including:
● Dodds' attendance at the 2013 Imaging USA conference for professional photographers, held Jan. 20-22 in Atlanta, GA;
● Dodds' attendance at the National Gay and Lesbian Task Force's Creating Change Conference, held Jan. 23-27 in Atlanta, GA;
● Hamm and Dodds' appearance at the Two Bright Lights Editorial Meeting, held on January 28 in Baltimore, MD
● a Feb. 2 book release party in Boston, MA;
● an appearance by Hamm at the Catersource conference in Las Vegas, NV on March 10-11;
● and an appearance by Hamm at Princeton University's LGBT and ally alumni event Every Voice on April 10-13.
CONTACT: For inquires regarding Capturing Love or to request a press preview of the book, contact Cathy Renna.