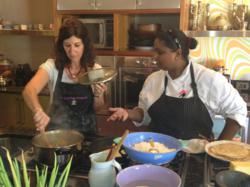 San Diego, CA (PRWEB) January 22, 2013
Jodi Abel, Chef and founder of Lajollacooks4u – a personalized hands-on gourmet cooking and dining experience– recently spent time in Cape Town, South Africa discovering the region's delicious wines and explored the unique flavors of South African Cuisine with Chef Vanie Padayachee who oversees the menu at the renowned Le Quartier restaurant, situated in Franschhoek in the Western Cape.
Chef Vanie is known as 'The Spice Guru' and over a three-hour cooking class, Chef's Jodi and Vanie had an incredible journey of tempering and blending spices as well as recreating Vanie's family recipes. Born and raised in Durban, South Africa, Chef Vanie's insatiable interest in food began while watching her parents, both great cooks, preparing exotic Indian dishes for family gatherings. Her cuisine is strongly influenced by the rich diversity of cultures found in South Africa.
Using local and seasonal produce, Chef's Jodi and Vanie ground, blended, chopped and cut an assortment of spices to stir up a colorful and fragrant Durban Chicken Curry, Indian Fried Bread (Roti), light and fluffy Basmati Rice, Fresh Tomato Sambals and Cucumber Raita.
"The concept of cooking together is so similar to what I do back in San Diego," Chef Jodi said. "It's all about using the freshest ingredients possible; what is in season and grown locally," Chef Jodi added. Chef Jodi said she was inspired to see this happening in South Africa. "The produce we used in Vanie's cooking class was literally delivered that morning from the local farmers," Chef Jodi said.
Chef Jodi was also impressed with the sophistication of the food and wine parings in South Africa. "Each meal was often times better than the first and the wines are superb; this was an incredible trip for me and my family and I am so excited to take these recipes back with me and share them with my clients," Chef Jodi said.
Lajollacoks4u was founded in 2008 and modeled after a European concept. Chef Jodi welcomes guests into her lovely Italian villa for a very special hands-on culinary adventure. Nestled atop Mt Soledad, San Diego, CA, with stunning views of the Pacific Ocean, guests are shown how to prepare their culinary delights and then, under the direction of Chef Jodi, begin their own preparation. Lajollacooks4u specializes in team-building activities, Farmer Market & Foodie Tours, special occasions and culinary weekends. Lajollacooks4u has enjoyed record growth since its inception and has been ranked a top attraction in La Jolla on the world's largest travel review site, Trip Advisor. For more information, contact Jodi Abel at jodi(at)lajollacooks4u(dot)com or phone 1-858-752-4980.