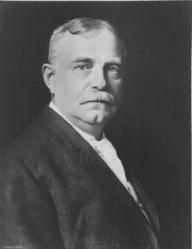 Sandwich, IL (PRWEB) January 18, 2013
Valley West Community Hospital, part of KishHealth System, is now involved in a major capital endeavor to add a 21-room patient wing to the facility along with other major improvements. Announced at the groundbreaking in September, KishHealth Foundation's annual Heart of the Hospital campaign is a specially focused effort to raise money for the new wing. As part of the research done for the campaign, KishHealth Foundation Executive Director, Marcy Rubic, found records of a local man, James Patten, who died 85 years ago, with a history of generosity to local healthcare for generations.
James A. Patten was born in Freeland Corners, just north of Sandwich and Somonauk, Illinois, in 1852. Born into a farm family that helped establish the surrounding community, he grew to great prominence. Patten became a leading business figure, building his fortune through his knowledge of commerce and agriculture. After he moved closer to Chicago and his success grew, Mr. Patten remained grateful to the local community. He demonstrated this through his philanthropic support, notably to the local hospital. In 1927, Patten's gift included a donation for half the cost to add a three-story addition to Woodward Memorial Hospital. Later, Sandwich Community Hospital, now Valley West Community Hospital, became a major beneficiary; he left a significant gift to the hospital in his will.
"We were reviewing donor records, including very old files. We understood Mr. Patten had been making gifts over many years," said Rubic. "Through research and talking with long-time employees like Jana Kingston, we came to realize the extent of his support." The foundation estimates gifts left to the hospital through Patten's trust have totaled more than $2 million to the organization over 80-plus years.
A plaque to honor and commemorate Mr. Patten will be placed in the completed patient wing in 2013. Patten's granddaughter, Jane Patten Thompson, is working with the hospital with its plans to recognize Mr. Patten.
"My grandfather was an incredibly generous man," said Mrs. Patten Thompson. "We are so pleased his memory lives on. He wanted to support the hospital because he felt so grateful to the people of this community. He wanted them to have top quality healthcare and to give them the very best quality of life. I imagine he would have been very excited to know this new project will provide the community with the very latest in conveniences and technology and that he continues to make this happen through his support."
The hospital was originally established in 1915 with six beds and was named Wormly-Dudley Hospital. In 1921, the hospital was incorporated, becoming Woodward Memorial Hospital in a large frame home where Willow Crest Nursing Pavilion now stands. In 1960, Sandwich Community Hospital opened its doors at the current hospital location and in 1998, became affiliated with KishHealth System under the name Valley West Community Hospital.
In the fall of 2013, a new 21,400-square-foot patient wing will open, providing 19 new, private, modern patient rooms and two observation rooms. Each spacious patient room will feature enhanced safety and comfort features. Significant investments are being made to enhance services including upgrading clinical technology throughout the hospital and using a robust physician recruitment program to provide a wider range of medical specialties.
Mrs. Patten Thompson plans to tour the hospital on her next visit to the community. A history of the hospital is being developed to maintain this information for future generations.
To learn more about the building project, please contact KishHealth Foundation at http://www.kishhealthfoundation.org or by calling 815.848.9954.