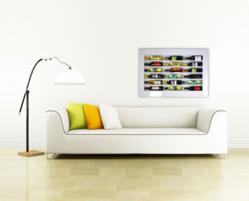 Naples, Florida (PRWEB) January 18, 2013
Today, Aluminum Home Solutions released information about their new contemporary product line Art by Wine. These easily installable products feature a highly contemporary design and optimal usability that are optimal for both home and commercial environments. The company's vision is to allow users display wine as a work of art. Through installing a stylish exhibition of wine, home and building owners will not only save space, but also improve the appearance of any room. More information about Aluminum Home Solutions and the company's offerings is available at http://www.aluminumhomesolutions.com.
All Art by Wine displays are highly durable and made from state-of-the-art materials. The wine rack can be easily installed to drywall and all parts are included so that the product can be installed directly out of the box. Aluminum Home Solutions' wine rack is also made from 100% aluminum, which guarantees it to be both sturdy and lightweight. All products are manufactured and assembled in the United States in Naples, Florida.
Company founder Jaime Zabala explains, "True wine connoisseurs will love Art by Wine. This exhibition will be a centerpiece of conversation for years to come! Plus our products enable people to finally showcase the labels on their wine bottles. Most wine racks hide these beautiful and elegant labels. "
Aluminum Solutions offers wine racks in various sizes to fit unique space requirements. The 30 Bottle Picture Frame Wine Rack fully displays up to 30 wine bottles. As this product comes fully assembled, it can be set up in less than 5 minutes. Another option is the 18 Bottle Picture Frame Wine Rack, which displays up to 18 bottles. These displays take up no more space than an attractive piece of art showcased on the wall.
A third option is the 12 Bottle Wine Rack, which has a full view of 12 wine bottles and can be attached to drywall. With this product, some assembly is required, but takes less than 15 minutes. This smaller rack can be easily installed in various places throughout the home. For example, many homeowners have attached it to their kitchen islands.
Aluminum Solutions also offers a wine wall, which provides a way to display an unlimited amount of wine bottles. The wine wall is priced per linear foot and can also be attached directly to drywall. The wall is custom cut so that it will smoothly fit into any area of a home or commercial area. On the exposed sides, there are protective aluminum columns to ensure safety. The only limits to the wine wall are the height of the wall and rows of wine to be showcased. The wine wall's width is up to 20 feet and the depth is 3.5 inches.
Art by Wine is intended for interior designers, restauranteurs and general contractors. The company also sells directly to the consumer. Due to the fact that the wine racks are easily installable, any homeowner can use them to enhance the look and functionality of his or her home. Jaime added, "Homeowners are finding that Art by Wine is a unique solution that is beautiful, minimalistic and also efficient."
About Aluminum Home Solutions:
Based in Naples, Florida, Aluminum Home Solutions specializes in creating modern high quality and durable products for home and office spaces with an emphasis on dramatic presentation. The company specializes in innovative and easy to install aluminum wine racks for walls. Aluminum Home Solutions' mission is to become the premier provider for unique, elegant, and affordable aluminum furniture and fixtures. All products are manufactured and assembled in the United States. Visit http://www.aluminumhomesolutions.com for more information.