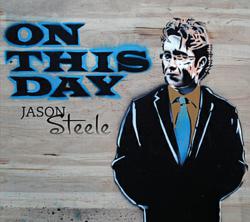 "Brilliant and textured, Jason's music speaks to the soul. This is the future of Jazz."
CHICAGO, IL (PRWEB) January 18, 2013
Altered Records LLC today announced the release of On This Day, the second album by acclaimed jazz guitarist and composer Jason Steele. Steele performs solo through multiple guitar layers on each of track of the 10-song album, which is infused with a unique combination of jazz, rock, and subtle folk influences.
On This Day features six original compositions in addition to unique arrangements of Ron Miles' If I Don't Get To Heaven, Paul and Linda McCartney's Silly Love Songs, Sufjan Stevens' Rake, and Emmylou Harris' Love & Happiness. Steele's talent for storytelling through musical notes instead of spoken words comes to the fore in On This Day. The original compositions, cover arrangements, and track order are all inspired by his wedding, the recent birth of his son, and the everyday family moments that enrich our lives.
"I've been creating material for this album over the past three years, expressing life changes through new music and communicating the vibe encircling me," said Steele. "On This Day is designed to connect with people on a deep emotional level and evoke a sometimes lost appreciation for the more simple things we all have."
On This Day is the follow-up to the Jason Steele Ensemble's Some Wonderful Moment. featuring trumpeter Ron Miles, which received significant positive reactions from the jazz press and jazz community. Steele is currently working on a third album, Music For Phillipe Petit, which is inspired by the events of the French highwire walker's historic walk between the Twin Towers of the World Trade Center in 1974.
On This Day and Some Wonderful Moment are both available through iTunes, in selected record stores, and through Jason's web site.
For more information visit http://www.jasonsteelemusic.com.
# # #