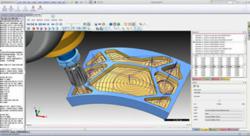 We wanted the SolidWorks user to have all of the available machining strategies right at their fingertips...
Clearwater, FL (PRWEB) January 17, 2013
Computer Aided Design & Manufacturing software BobCAD-CAM, Inc has gone through the rigorous qualifications checklist as a SolidWorks CAM solution and has met all SolidWorks qualifications in becoming an official Gold Partner. SolidWorks design software is focused on optimizing core design functions so users can work smarter and faster to transform new ideas into tangible business results. This is exactly why the new release of the BobCAM for SolidWorks gold partner CAM add-in modules are a critical piece to the overall efficiency in manufacturing as it streamlines and allows the user to maximize productivity.
"Integration between key product design applications can shave precious time off of the development process and increase productivity," said Nick Iwaskow, SolidWorks Manager, Alliances. "Integrating BobCAM directly within the SolidWorks environment helps designers and engineers improve designs and deliver the products their customers are looking for."
At this year's annual SolidWorks World in Orlando Florida, BobCAD-CAM will launch its next generation BobCAM for SolidWorks Version 3 series of CAM modules that range from 2 Axis to full simultaneous 5 Axis CNC machining. SolidWorks users who machine parts can now take advantage of new milling toolpaths and wizards that remove the guesswork by stepping you through the machining process.
Major revisions to the software include an all new Stock Wizard, Tool Crib and Material Cutting Conditions. A significant addition to the software this year is the High Speed Adaptive Roughing machining strategy that is now added to the 2 Axis pocketing functionality for open and closed shape pockets as well as the PRO modules. The new High Speed Adaptive Roughing is the first in the world for multiaxis CNC machining. This new high speed feature focuses on toolpath generation and takes tool engagement into account, improving tool life and maximizing material removal. Roughing can also differentiate climb and conventional cuts and allow different step-overs to be applied for each cut direction. Proven benefits of this type of milling include reduced tool wear and shortened cycle.
More new features include Tool Patterning, a new and improved face milling strategy and a newly added tool holder library all of which are dedicated to increasing efficiency in programming time and, in the end allowing SolidWorks users the ability to perform simple or complex machining operations without ever having to leave the SolidWorks environment.
"We wanted the SolidWorks user to have all of the available machining strategies right at their fingertips and then added advanced wizards that step them through the process of creating programs which literally removes the guesswork from the process altogether," commented Greg Myers who heads up the development division of BobCAD-CAM.
The latest BobCAM for SolidWorks software also includes multiaxis CAM modules for full 4 & 5 Axis CNC machining. This includes the addition of 3+1 for 4 Axis rotary and 3+2 machining, surface based machining, multiaxis roughing strategies, optimized SWARF milling strategies, as well as full machine simulation. Full machine kinematics can be defined to allow multiaxis posting and simulation support.
Users can also now create their machine with separate STL files to see the machine in motion if they have purchased the Mill 4 Axis Pro, Mill 5 Axis Standard, or Mill 5 Axis Pro modules. These are just a few of the newly added machining features in the new BobCAM for SolidWorks V3 release.
For more information on the new BobCAM for SolidWorks CAM add-In contact BobCAD-CAM directly at 877-262-2231 or 727-442-3554 or visit http://www.bobcad.com for a free trial download.
Visit BobCAD-CAM at SolidWorks World 2013 Booth #401 for details.
Copyright © 2013 BobCAD-CAM, BobCAM. SolidWorks is a registered trademark of Dassault Systèmes or its subsidiaries in the US and/or other countries. Copyright © 2013 Dassault Systèmes SolidWorks Corp.