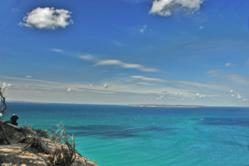 Celeb chef Mario Batali, who summers here, thinks Traverse City is 'truly magnificent.' And we know he has great taste.
Traverse City, MI (PRWEB) January 18, 2013
The online travel site Away.com (an editorial division of Orbitz.com) has named Traverse City, Michigan to its list of ten "Best Four-Day Vacation Spots" for 2013, joining such destinations as Oaxaca, Palm Springs and Washington's Olympic National Park.
"Long a favorite vacation spot for Michiganders, Traverse City is making its way onto the national radar: In just the past year, out-of-state visitation has jumped 30 percent," writes reviewer Evelyn Spence.
"The cherry capital of the world (it produces 75 percent of the country's tart cherries) sits on two Lake Michigan bays that have clear Caribbean-blue waters, and it has some 150 inland lakes, plunging sand dunes (at Sleeping Bear Dunes National Lakeshore), 25 wineries, and miles of paved and unpaved trails for cycling, running, snowshoeing, and skiing," she added.
"Celeb chef Mario Batali, who summers here, thinks Traverse City is 'truly magnificent.' And we know he has great taste."
The article was part of Away.com's "2013 Operation Vacation" project, which profiled 40 world destinations for trips lasting from "two -day getaways to ten-day once-in-a-lifetime adventures."
A small coastal resort area on the northwest coast of Michigan's Lower Peninsula, Traverse City has long been treasured by Michigan residents for its matchless scenery, colorful history, imaginative cuisine and laid-back friendliness, as well as the low humidity, warm sunshine and cool coastal breezes that make its summers so comfortable. Until recently it has remained relatively unknown outside the state, but word has been spreading quickly during the past few years.
In the past year, National Geographic has named Traverse City one of its Top 10 Summer Trips for 2012, while the Travel Channel ranked it among the Top Seven Beer Destinations in North America, Budget Travel called it one of the 11 "Coolest Winter Places in America," and Money Magazine ranked it among the Top 25 Best Cities to Retire.
For more information about other activities and attractions in Michigan's scenic Traverse City area, and assistance with lodging, dining and other activities, contact the Traverse City Convention & Visitors Bureau at http://www.traversecity.com or 1-800-TRAVERSE.